Hello Foodie Friend, and Welcome to The Seasoned Skillet (TSS)!
My name is Taneisha, it's great to e-meet you and thank you for stopping by! This is what I like to call my little corner on the internet, also known as my online kitchen. I'm a food blogger, recipe developer, wife and mommy to our vibrant toddler, as well as a Business Analyst by profession.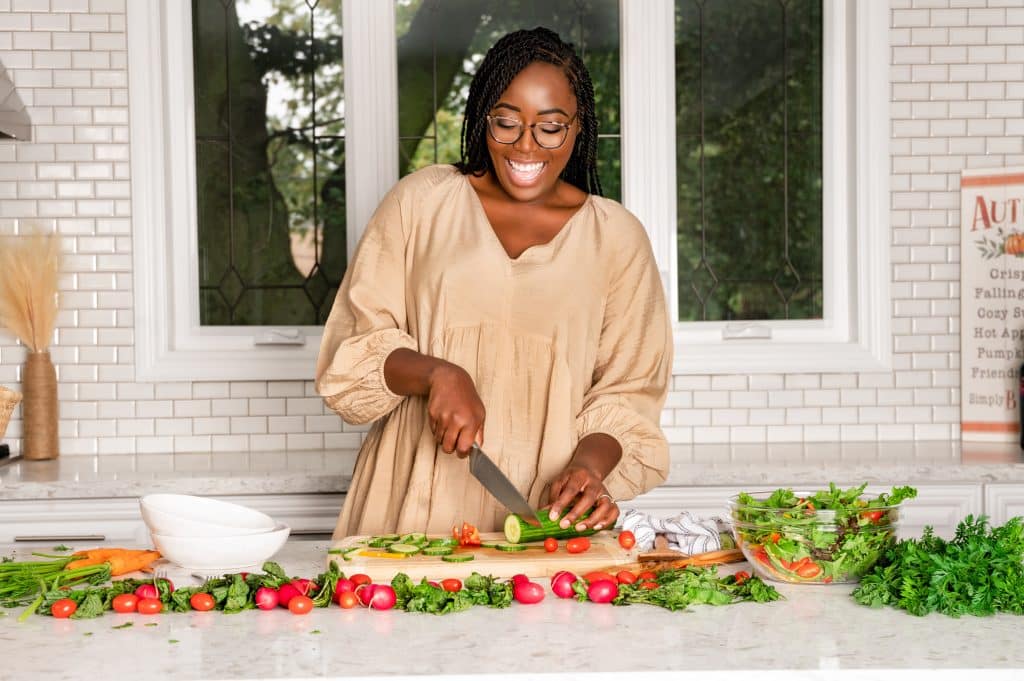 The purpose of The Seasoned Skillet is to share recipes that are approachable, comforting, and wholesome for the everyday home cook with a touch of Jamaican flare. I want to ensure that you are inspired to try something new or inspired to elevate a recipe you're already familiar with. In addition, I share my kitchen tips and tricks as well as travel and lifestyle content.
My continued endeavour is to encourage and inspire all those in my sphere of influence to live a happy balanced purpose filled life.
Background
So here's a little more about me! I was born and raised in Toronto, Ontario, Canada and I am proudly of Jamaican descent. I have a large, crazy, fun and loving family. I'm the youngest of 4 sisters, and an aunty to 6 amazing nieces and nephews.
My parents are proudly Jamaican, and they've done quite a phenomenal job of instilling Jamaican culture and vibrancy into my siblings and I. You will find many Jamaican and Caribbean recipes as well as fusion recipes on my site as a result of this.
I also have a deep love for family, music, travel, adventure and learning. I have visited quite a number of countries, and one of my life goals is to increase this number to 40 countries by the age of 40.
How it all Started: Why I Started Food Blogging
I've always loved cooking, ever since I was a little girl. As I grew older, I also found great joy in sharing my kitchen chronicles (as I would call them), online with my family and friends on my personal Instagram and Facebook page. It was always such a fun and effortless thing to do. In addition, I would always help my mom out in the kitchen – to be honest, I never knew I was soaking up so much from her during those times.
I never had the intentions to ever start a food blog. However, as time progressed and I started to cook more frequently many encouraged me to take it further and do more. In March 2020, after years of saying no, destiny and time collided and I started The Seasoned Skillet. I can truly say it was one of the best decisions I've ever made. This short story has taught me two things; nothing happens before it's time, and your greatest blessings are on the opposite side of fear.
Education
Bachelors of Commerce Degree BComm., Toronto Metropolitan University (formerly Ryerson University), Toronto, ON
Professional Career
Interviews & Online Publications
Buzz Feed Tasty (2023) – Tasty Creators Share Favorite Recipes From The African Diaspora
Valley Fig Growers (2022) – Balsamic Fig Glazed Chicken Wings
Clean Eating Magazine (May 2021) – 3 Ways with No-Churn Ice Cream
Clean Eating Magazine (May 2021) – Dairy-Free Coconut Lime Ice Cream
Clean Eating Magazine (May 2021) – Tropical Sorbet
Clean Eating Magazine (May 2021) – Old-Fashioned Chocolate Chunk Ice Cream
Fed & Fit – Get to Know Tuesdays – Taneisha of The Seasoned Skillet
Cosmopolitan (July 2020) – 28 Black Food Bloggers You Need To Follow RTFN
The Feed Feed (2020) – Spicy Mango Scotch Bonnet Daiquiri
As Seen On…
Frequently Asked Questions
Is The Seasoned Skillet your Full-Time Job?
I like to say The Seasoned Skillet is one of my two full-time jobs. As mentioned earlier, I am a Business Analyst by profession and I love everything about what I do.
It helps to sustain my lifestyle, allows me to run The Seasoned Skillet smoothly, as well as enables me to enjoy the little luxuries of life that I love so much – i.e. eating out with friends, travelling, purchasing things from Amazon (lol).
However, I will say, the options are endless when it comes to the possibilities in this industry – only time will tell what the future holds.
How Often Do You Cook at Home for Yourself and Family?
I do the bulk of my cooking for The Seasoned Skillet on the weekend, as my weekdays are dedicated to my full-time job. However, during the week both the husband and I take turns. I still do the majority – on average around 3 times per week. The other days we eat leftovers, or order in (especially on Friday Date Nights).
Do You Eat All the Food You Take Photos Of?
I have this really weird trait – I rarely eat a full serving of whatever I prepare for The Seasoned Skillet. Reason being, I spend so much time preparing (handling, flipping, cooking, stirring, taking pictures, recording videos etc.) that by the time it's ready to be consumed – I AM OVER IT!
However, I hate seeing food wasted. Majority of the time, my husband, my nearby extended family, or any friends that around at the time come by for a takeaway meal (plus, I'm always looking for taste-testers). Anything else gets eaten the day after, which helps me test how the recipes hold up a day later, or after being refrigerated, frozen etc.
How Long Does it Take You to Get the Perfect Shot?
For me, the reason capturing the "perfect shot" may take long is if the composition, balance, lighting or in more understandable terms the overall staging of the subject (the food) is off. Staging/styling is the "longest" part, once that's sorted and captured is easy! On average, I may take anywhere from 5 mins to 20 mins.
How Do You Make Money Food Blogging?
Food bloggers primarily get paid via ad revenue, affiliate links, and sponsored content. If you have an ebook, cookbook, merchandise etc. these are also other streams of income. For my sponsored posts, you will always see a disclaimer that it is a sponsored post, however the opinions are of my own.
Where are You Going Next? What's Your Goal for the Next Year?
My goal is to always spread love and light in whatever space I occupy. For The Seasoned Skillet this means continuing to share new recipes, resources and content that will help my readers live "their best lives", and feel great while doing so!
I have so much planned for The Seasoned Skillet, this is only the beginning! I also believe in the power of spoken words, so… Cookbook & Kitchenware Loading!
Some Final Thoughts
This journey has been so tremendously rewarding. Grateful, humbled, honoured, are all words I typically use to describe this experience, yet they all pale in comparison to the true feeling.
I'm so excited for what's to come, you'll find hundreds of recipes, blog posts on all things lifestyle and travel on here – so have fun browsing through all the pages and recipes, make yourself at home!
With Love,
Taneisha M.