Fresh cherry tomatoes, marinated mini bocconcini cheese balls, freshly teared basil leaves, with a drizzle of Balsamic glaze – it's a collision of flavours your bound to enjoy!
Salads are one of my absolute favourite things to eat! Regardless of if it's summer, or winter…trying to eat healthy or simply indulging and living life – I always have an appetite for salads! Caprese Salads are super easy to make, but have a big, burst of flavour with every bite!
Variations, Recipe Tips and Notes
Marination, Marination – You need to marinate your fresh bocconcini or mozzarella balls. You do this by combining your ingredients with olive oil and marinating overnight, in oil olive. Now, when you take it out of the fridge – the olive will have solidified. My recommendation is to remove from fridge 1 hour before serving to allow your olive oil to warm to room temp (see notes section at bottom of page for additional details).
Which Cheese to Use – Mozzarella is a soft Italian cheese made from cow's or buffalo's milk commonly used on pizzas, salads, etc. Bocconcini are a type of mozzarella, but a smaller size. The name stems from the Italian word for mouth, meaning they are bite-sized. You can use either or.
Herbs – You can solely use basil, or you can add in other herbs such as parsley, cilantro, oregano etc. Fresh herbs always work best with salads – it just goes together. However, you can use dried herbs as well – my recommendation would be to mix in with the olive oil and marinate so the flavour can come alive and infuse in the oil!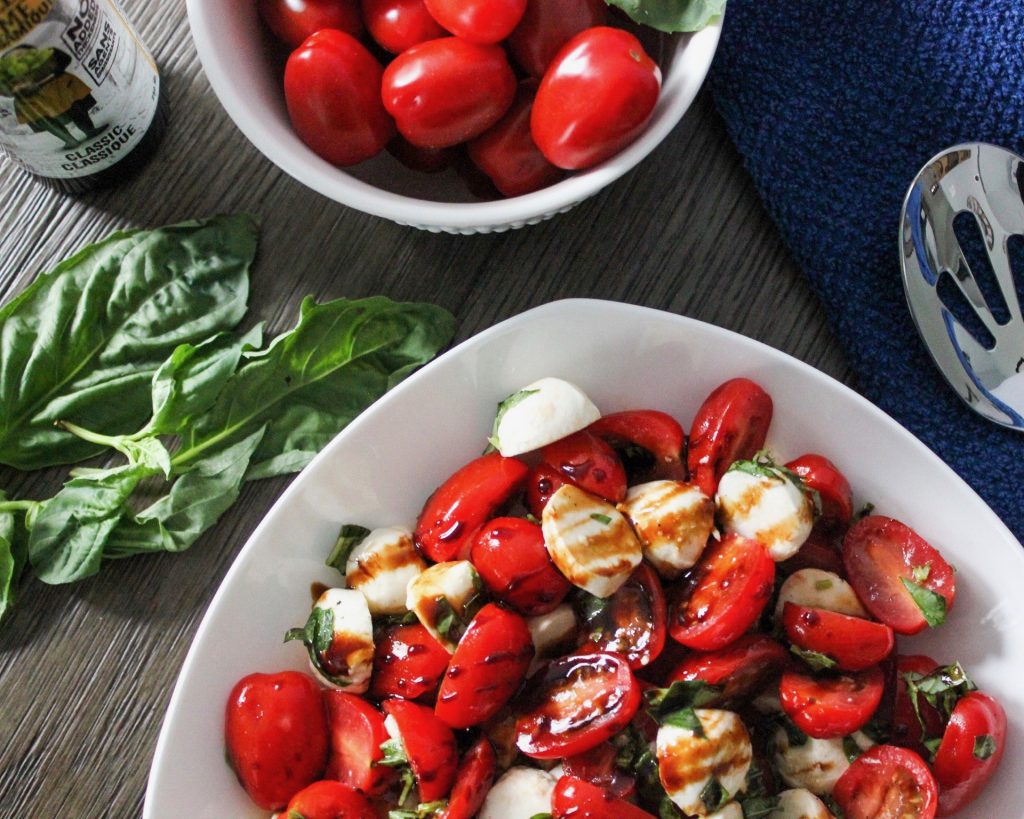 Easy Caprese Salad
Fresh cherry tomatoes, marinated mini bocconcini cheese balls, freshly teared basil leaves, with a drizzle of Balsamic glaze – it's a collision of flavours your bound to enjoy!
Ingredients
200

g

Fresh Bocconcini halved ⠀

255

g

Cherry/Grape Tomatoes halved⠀

2

Cloves

Garlic crushed/minced ⠀

Fresh Basil torn

½

tsp

Lemon Juice

¼

cup

Olive Oil

see notes section⠀

Balsamic Glaze

you can make your own as well! to taste

1

tsp

Salt or to taste ⠀

Black Pepper to taste
Instructions
Add garlic, 2-3 torn basil leaves, olive oil, lemon juice, salt and pepper to a bowl and stir to combine.

Add the fresh bocconcini (you can also use fresh mozzarella), toss it all together.

Cover, and allow to marinate for a few hours or overnight.

An hour before serving, remove cheese from fridge (the olive oil will have solidified by now), keep at room temp until oil have returned to its normal consistency and colour (see notes sections).

Add the tomatoes to a medium serving bowl. Remove the bocconcini/mozzarella from the marinade and add to the tomatoes. You may need to adjust the taste by adding more salt.

Drizzle 1-2 tablespoons of olive oil on top, toss to combine. You can also choose to use the marinade oil.

When ready to serve, drizzle with prepared balsamic glaze, additional basil leaves & enjoy! ⠀
Notes
a. Refrigeration can cause olive oil to become cloudy and solidify, but this will not affect the quality or flavor. Once the oil is brought back to room temperature, it will return to its normal consistency and color.
b. You want to ensure you have a good, high quality olive oil! You don't need to spend a ton of money, however you should make sure it is real, pure, extra-virgin olive oil. If it tastes bitter, or has a rancid taste – it has gone bad, trust your senses (smell, taste, look). Lastly, be sure to always screw the lid back on, and store in a cool, dark place like a cupboard.
DID YOU MAKE THIS RECIPE?
If you enjoyed this recipe, please consider leaving a ⭐️⭐️⭐️⭐️⭐️ rating and a comment below I always love hearing from you! You can also tag @theseasoned.skillet and use #theseasonedskillet on Instagram!