This is the perfect Jamaican-Canadian mash-up, Jerk Chicken Poutine! It's classic Canadian meets traditional Jamaican – a burst of deliciousness and the right amount of comfort in every bite!
From the homemade fries to the homemade gravy to the perfectly marinated and smoked jerk chicken – what's not to love?! So for those that don't know, I was born and raised in Toronto, Canada – poutine is kinda like our thing! It's a dish that combines French fries and cheese curds, which is topped with a yummy gravy! It originated in the province of Quebec (that's east of Toronto), and it's a dope, comforting dish! My parents were born and raised in Jamaica – jerk chicken is kinda like their thing! So I thought, why not combine the two to make JERK CHICKEN POUTINE! Ahhhhhhh, it's the perfect, absolutely perfect, mash-up of the two! I'm telling you from now, you're going to love this dish!
Recipe Tips and Notes
The Perfect Poutine Gravy – This is probably the most important part. If you have great gravy, you'll most likely have a great poutine. Traditionally, the gravy is light and not too thick. However, I like a good, thick and boastful gravy. There's, of course, the lengthier process of making gravy, however, I will share the quick version on this recipe, used by combining chicken and beef stock. You must use a good quality stock because this is what your gravy will essentially taste like – quality stock = quality gravy.
The Cheese – Do not use shredded cheese! You must use real cheese curds and in Canadian grocery stores, it's quite easy to get a hold of. After all, is it really poutine if you can't hear the squeak of the cheese? If you can't find real cheese curds, the next best option is a quality mozzarella.
The Chips (French Fries) – First things first, the chips must be crispy! This will allow your dish to stay messily intact after being topped with cheese, gravy, and in this recipe, jerk chicken. There is a technique you should follow to allow for the crispiest chips! First start with the right potato – Russets, to be precise. Secondly, you must soak them for a few hours or overnight to remove the excess starch. Third, drain and pat dry. Fourth, fry them TWICE…yes, you heard me correctly. The first time at a lower temperature to cook them through then a second time at a high temperature to get them crispy on the outside. Lastly, you must drain them. You don't want excess moisture and oil in your poutine!
The Jerk Chicken – What you need is a good marinade, some time to allow the flavour to soak into your chicken, a grill (recommended but not required) and that's all! I have a quick and easy recipe on the blog – click here to access it. Don't waste your marinade – turn it into a yummy sauce and add it to the poutine!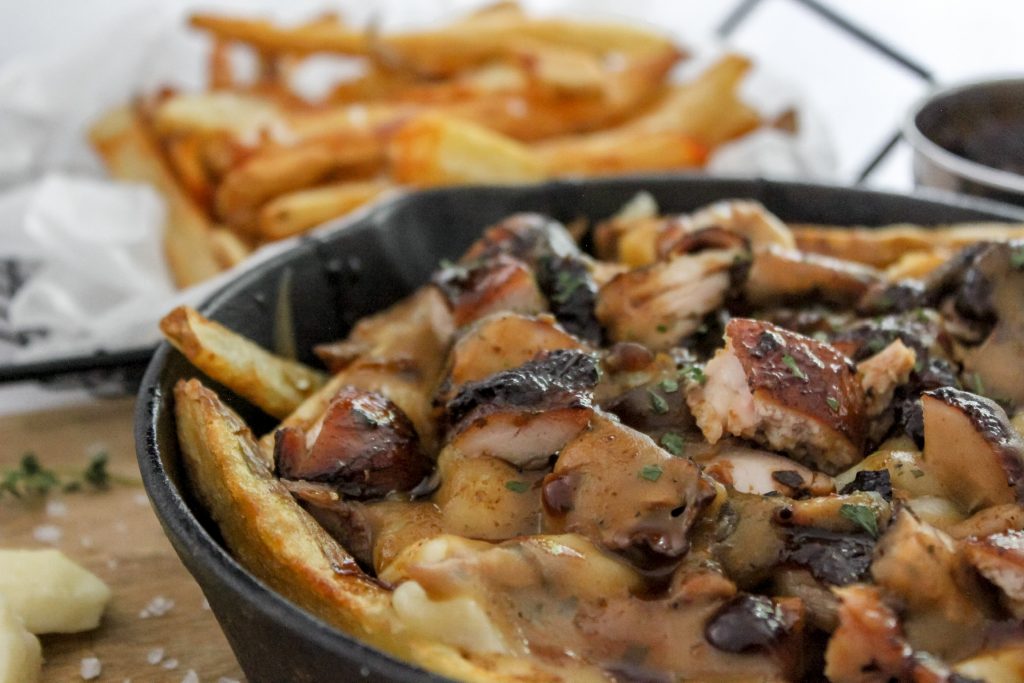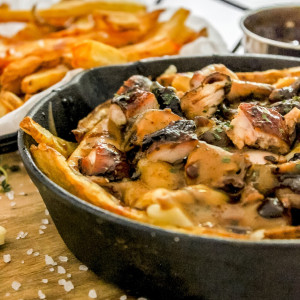 Jerk Chicken Poutine
This is the perfect Jamaican-Canadian mash-up, Jerk Chicken Poutine! It's classic Canadian meets traditional Jamaican – a burst of deliciousness and the right amount of comfort in every bite!
Ingredients
Gravy
4

tbsp

Unsalted Butter

1

tbsp

Herb Blend Seasoning

any mixture of rosemary, thyme, sage, parsley and Italian seasoning blend works great as well

¼

cup

All-Purpose Flour

2

cups

Beef Broth

2

cups

Chicken Broth

2

tbsp

Ketchup

1

tsp

Worcestershire Sauce

2

tbsps

Cornstarch

to thicken, optional

1

tbsp

Water

to thicken, optional

Salt to taste

Black Pepper to taste
Jerk Chicken
1

lb

Chicken Thighs & Legs

2

tbsp

Jerk Marinade

or Grace or Walkerswood Brand

1

tbsp

Brown Sugar

optional

1

tbsp

Olive Oil

1

tbsp

Browning or Soya Sauce adjust until desired colour

2

Sprigs of Thyme

1

Escallion Stalk crushed

½

Medium Onion chopped

3

Garlic Cloves crushed or minced

5

Pimento Seeds crushed

2

Bay Leaves

BBQ Sauce if desired
Fries & Cheese
3-4

Medium/Large Russet Potatoes

Canola Oil

or Vegetable Oil for frying

Cheese Curds

room temperature as desired
Instructions
Gravy
In a large saucepan over medium high heat, melt butter.

Add flour and whisk for 2-3 mins or until starting to get brown. Add herbs and seasoning.

Add beef broth, chicken broth, ketchup and Worcestershire sauce then bring to a boil. Cook, stirring until thickened, for about 4–7 mins. You can choose to allow it to simmer until reduced (recommended), or gradually add in the cornstarch and water mixture until you've reached your desired thickness. Season with salt and pepper as desired. You can add more stock if gravy becomes too thick.
Jerk Chicken
In a medium/large prep bowl, add chicken and all the ingredients (except BBQ sauce). Toss to coat, and let it marinate in the fridge for at least 2 hours or overnight.

30 mins before grilling, remove it from the fridge. Heat the grill to medium-high and spray the grates with cooking oil (i.e Pam Cooking Spray). Grill the chicken (ensure excess herbs – thyme sprigs, bay leaves, escallion etc.- are removed), turning occasionally, until chicken is charred in spots and almost done. Reserve marinade – see notes section here. 

Move chicken to a cooler temperature area of the grill and brush with reserved marinade. Grill, covered, until chicken is cooked through.
Fries
Wash and scrub your potatoes (the skin will be left on for this recipe, but you can opt to remove it after boiling). I would put measurements like cut your potatoes into half to one third inch sticks, but I will leave it to you to decide what thickness you desire.

Fill a large boil with cold water and soak the potatoes (ensure they are fully submerged) for about an hour to overnight.

Remove the potatoes from the water, drain and pat dry with paper towel to remove any excess water.

Heat a large dutch oven or deep fryer with oil at 300–325°F or a medium setting.

Add potato sticks to the hot oil, ensuring not to overcrowd, and cook for about 5-7 mins or until they begin to ever so slightly turn a hint of brown. You want to cook them through but not crisp up the outside just yet. Transfer to a cooling rack, drain any excess oil then repeat.

Heat the oil to 375°F, or a high setting (be careful not to burn your fries). Cook your fries a second time for around 2-3 mins (time varies) or until golden and crispy on the outside. Remove from oil, drain, and season with salt and pepper if desired.
Assemble
Fries, cheese curds, jerk chicken (chopped), gravy, herbs and black pepper, serve immediately and enjoy!
Recipe Notes
A. You can do the quick version of this recipe by using pre-made fries, packaged or pre-made poutine gravy and any chicken of your choice…but then again, that's probably not why you're here (lol). If you have the time, I totally recommend making it from scratch, but if time is against you, do it the quick way – prep and assemble!
Note, the nutritional information is calculated using a nutrition facts calculator. It is a rough estimate and can vary based on products used.