Vegan Crispy Tofu Quinoa Bowl, this is the most delicious vegan buddha bowl served with a yummy Creamy Vegan Buddha Bowl Tahini Dressing. It's a healthy, filling, nutrient-packed meal loaded with veggies served on a bed of quinoa creating a hearty and flavorful lunch or dinner.
Vegan Crispy Tofu Quinoa Bowl
I think we've all reached a point in time where we've been eating like complete crap, and all of our "I'm going to eat great this week" pep talks were thrown out the window. To be quite honest, there's nothing wrong with treating ourselves to that less than healthy meal – but then we sometimes pay the consequences immediately after when we feel sluggish and tired. I would be the last one to come on here and write about eating only top-grade organic healthy meals every livelong day of your life. However, I am a great advocate for having a balance in our meal choices and getting our bodies moving on a daily basis! This led me to this week's lunch or dinner recipe – Vegan Crispy Tofu Quinoa Bowls! This recipe was super fun to prep, even easier to assemble, and left me feeling recharged, full, and happy. Happy is always good!
What's a Buddha Bowl
They're essentially a nutrient-packed bowl filled with healthy toppings, this is the short answer. They are usually vegetarian or vegan and served in a bowl of course, typically with a wide base and consists of many different foods, usually served cold. You start with rice or whole grains, add on your veggies and protein (beans, lentils, tofu) and drizzle with a dressing.
Here's a link to more information on Buddha Bowls from Rachel Tepper Paley at Healthyish and Katherine Sacks at Epicurious.
Variations
Don't Like Quinoa? Swap it out for brown rice, wild rice or couscous if that's what you prefer. You can also try cooking your quinoa in vegetable stock to add some flavour. You never know, you may end up liking it…but I bet you will!
Not a Tofu Fan? The options are endless here, you can sub the Tofu for tempeh, seitan, soybeans, lentils, black beans, red beans, chickpeas etc.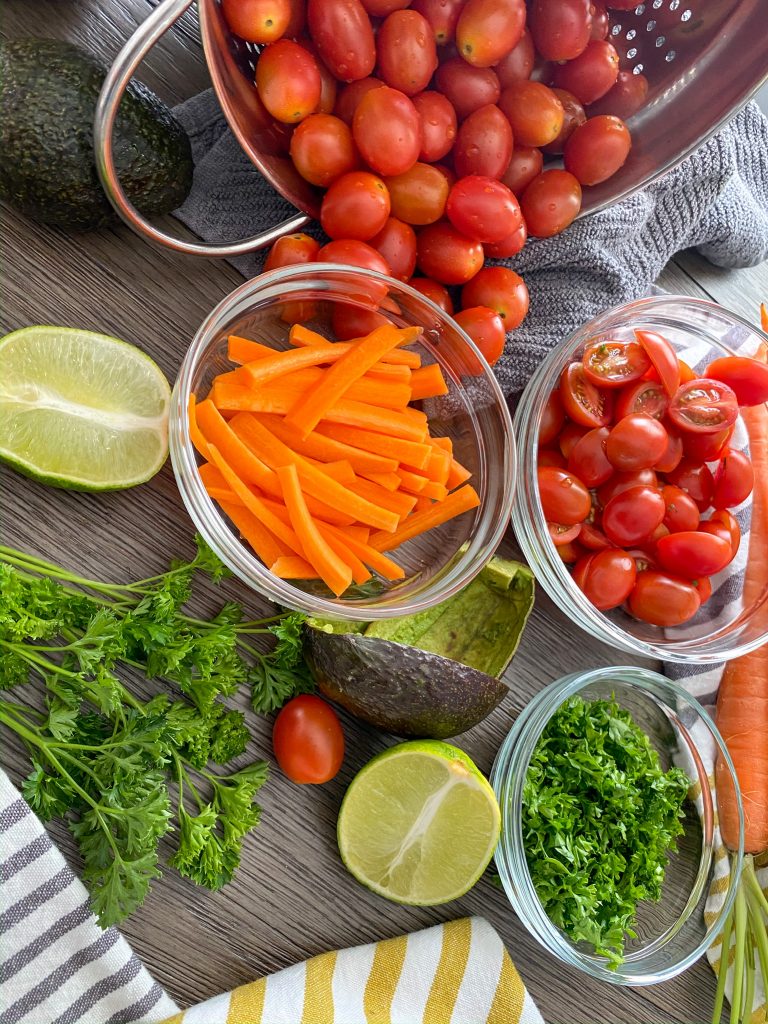 Quinoa Cooking Tips
If you would like to know how to cook quinoa, check out my "How To Cook Quinoa" blog post. However, here are a few tips:
Always rinse quinoa. This removes that bitter, "soapy" taste quinoa can have that's caused by naturally occurring saponins.
Use twice as much water or broth as quinoa – a 2:1 ratio. For example, if you use 1 cup of quinoa, use 2 cups of water or broth.
Cook uncovered until your quinoa has absorbed all the water/broth, then remove from heat and cover for a few more minutes (this allows the quinoa to steam). You'll know the quinoa is ready to eat when it pops and appears fluffy!
Crispy Tofu Cooking Tips
Use lint-free paper towel or a clean dishcloth to remove any excess liquid. You may also want to place something heavy, like a skillet, on top.
Cube the tofu and add it to a mixing bowl.
Season according to what you are making. For this dish, I used 2 tbsp soya sauce (you can also use tamari sauce) and 1 tbsp cornstarch or nutritional yeast.
Place the tofu on a baking sheet, bake in oven for about 20 minutes or until crispy and golden brown turning at the halfway point.
Remove and enjoy!
Other Useful Links: Quinoa Facts – Eating Well & Mistakes to Avoid When Cooking Tofu – Kitchn
Other Vegan Recipes You'll Enjoy!
Vegan Jamaican Bulgur Wheat & Peas (Rice & Peas Remix), How to Make the BEST Almond Milk (Dairy-Free & Vegan) & Jamaican Cornmeal Porridge (Easy Breakfast Recipe)
I'd greatly appreciate if you left a star ★ rating (located near the top of the recipe card below), as well as leave a comment if you found this blog post helpful!
Vegan Crispy Tofu Quinoa Bowl
You'll definitely be proud of your eating choices after eating this super delicious, super healthy, Vegan Crispy Tofu Quinoa Bowl! All it takes is some prep work, assembly and your favourite dressing!
Ingredients
1

cup

Quinoa

1

block Extra Firm Tofu

2

tbsp

Tamari or Soya Sauce

1

tbsp

Nutritional Yeast or Cornstarch

1

tbsp

Olive Oil

Carrots julienned

Avocado sliced

Cherry Tomatoes

Fresh Parsley chopped

Squeeze of Lime

Broccoli

Essentially

you can use any veggies you prefer. I just chose to use these, as they are my favourites.
Instructions
Preheat oven to 400˚F. Line a baking sheet with parchment paper.

Place the tofu on a plate lined with paper-towel. Place a paper towel over the tofu then place a heavy skillet on top of it. This is done to absorb any excess liquid. Let it stand for at least 15 minutes before slicing the tofu into bite-sized cubes.

In a mixing bowl, combine the tofu, tamari sauce (or soya sauce), nutritional yeast (or cornstarch), and a 1 tbsp of olive oil. Mix well.

Arrange the tofu in a single layer on the baking sheet. Place into the oven and bake for 20 minutes. Flip at the halfway mark. Remove the baking sheet when the tofu is crispy and golden brown in colour. Set aside.

Rinse the quinoa then drain.

Combine the rinsed quinoa with salt and water in a saucepan. Bring the mixture to a boil over medium-high heat. Once the water has been absorbed by the quinoa, remove the saucepan from the heat and cover with a lid. Allow the quinoa to simmer – approx. 20 minutes.

Once the quinoa has cooled, add in the chopped parsley, drizzle some olive oil and sprinkle in the black pepper.

Chop up and set aside all your toppings – tomatoes, broccoli, avocados, carrot etc.

Assemble all prepared ingredients in a bowl.

Drizzle your favourite vinaigrette on top.

At last, enjoy and feel great!
Recipe Notes
Any dressing of your choice will work, I particularly prefer creamy dressings if adding meat, and vinaigrettes for plant-based bowls! The prep & cooking times depend on whether you are starting from scratch (ie. cooking the quinoa and/or baking the tofu) or just assembling. Although any salad dressing would work perfectly with this dish, here are some of my favourites: Honey Dijon, Balsamic vinaigrette, or even olive oil with cilantro and lime vinaigrette. Feel free to try them or make your own!
Note, the nutritional information is calculated using a nutrition facts calculator. It is a rough estimate and can vary based on products used.
DID YOU MAKE THIS RECIPE?
Leave a comment below and a star rating above, or tag @theseasoned.skillet on Instagram and use hashtag #theseasonedskillet!
ARE YOU STILL HUNGRY?