With good reason, quinoa has quickly made its way to the top of the grocery list for many! This superfood, or supergrain as others may call it, is packed with protein, fibre and an array of vitamins and minerals!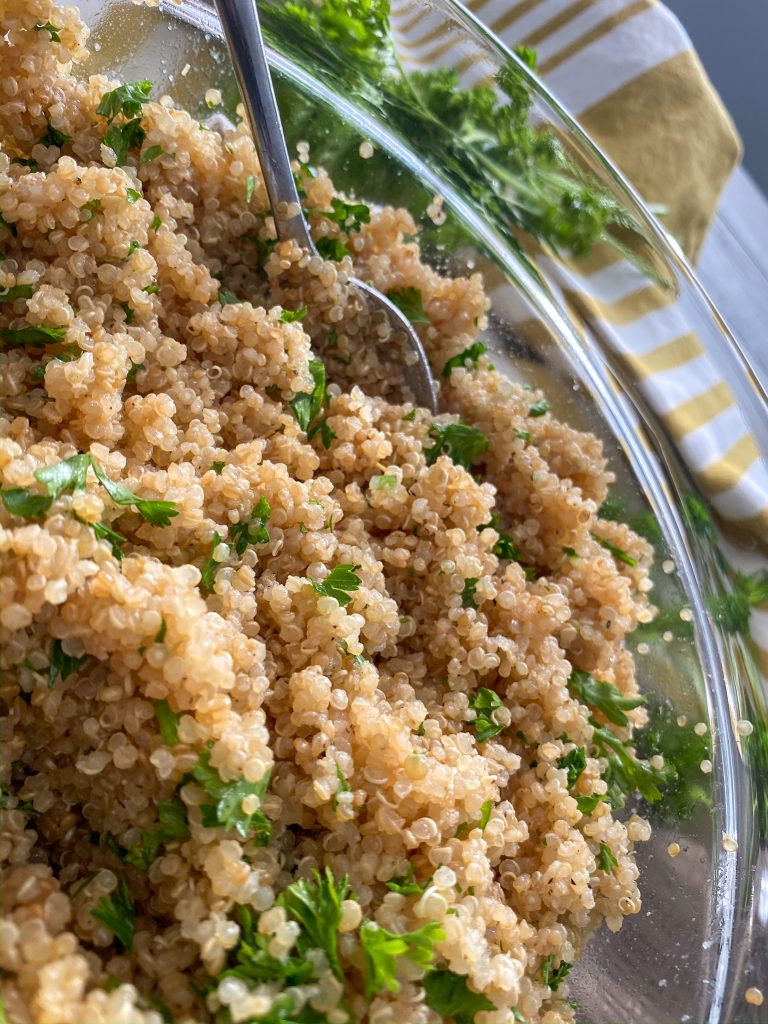 What Is Quinoa?
Technically speaking, quinoa (pronounced KEEN-wah) is a seed, not a grain. It is gluten-free, vegan friendly, mineral-rich, high in fibre and extremely easy to cook! Quinoa acts as a whole-grain even though it comes from a tall, green, weed-like plant. For additional information on how it is grown, check out this article from the Huffington Post.
Quinoa Quick Facts
Complete protein
Gluten-free
High in iron, magnesium, and fibre
Great for the digestive system & metabolic health
Low glycemic index which means it's great for blood sugar control
Cooking Tips
Always rinse quinoa. This removes that bitter, "soapy" taste quinoa can have that's caused by naturally occurring saponins.
Use twice as much water or broth as quinoa – a 2:1 ratio. For example, if you use 1 cup of quinoa, use 2 cups of water or broth.
Cook uncovered until your quinoa has absorbed all the water/broth, then remove from heat and cover for a few more minutes (this allows the quinoa to steam). You'll know the quinoa is ready to eat when it pops and appears fluffy!
Print Recipe
How To Cook Quinoa
Salmon is EVERYTHING on any given day and today, you're in for a spicy-sweet treat with this oven-baked, skillet salmon recipe! Get ready to leave the table feeling satisfied and craving for more!
Ingredients
1 cup Uncooked Quinoa (any variety will do - i.e. white/golden, red, or black)
1 tsp Olive Oil
2 cups Water or Broth
Salt to taste
Instructions
1

Rinse the quinoa then drain.

2

Combine the rinsed quinoa, salt and water (or broth) in a saucepan. Bring the mixture to a boil over medium-high heat.

3

Once the water has been absorbed by the quinoa, remove it from the heat and cover. Let it stand, keeping it covered.

4

Depending on the dish you're making, you can add in fresh herbs, drizzle in additional olive oil and add black pepper.