The best and easiest homemade pizza crust dressed with a garlic, rosemary olive oil base, and topped with mozzarella, prosciutto, herby diced tomatoes, and fresh arugula.
The hubs and I had all the plans to travel abroad to celebrate our 2nd wedding anniversary. However, "due to COVID-19" (I'm sure by now we are all well acquainted with this terminology) all our travel plans were postponed. Nonetheless, we decided to pack our bags and do a little road trip to Montreal, QC. While we were there we stopped by Pizzeria Napoletana, and had their Toscana Pizza and I'll just say it was a great decision made! So, in true Taneisha fashion, I decided to come home and re-create what I had – so let's get started!
Let's Start with the Dough, the Crust, the Base of the Thing!
The ingredients are simple, however there are a few tips and tricks that will improve the quality of your pizza crust. Do not skip, or ignore these steps as the crust is essentially the foundation, and true essence of the pizza regardless of what you load on top of it!
Bread Flour vs. All Purpose Flour – very quickly, bread flour has a higher gluten content (natural proteins found in wheat, which is activated when flour is moistened and then kneaded or mixed). As such bread flour will produce a crunchier exterior with a chewier interior, whereas all purpose flour will produce a softer dough. Bread flour is great for thin crust pizzas, and all purpose for New York, Neopolitan and deep-dish style pizzas.
All Flour is not the Same – when making your pizza dough, you may not need all the water the recipe calls for, start with 75% and add the remainder if needed. Reason being, everyones flour is different, it may be older/ newer, your climate, humidity levels all play a part it in. You don't want your dough to become too sticky or too wet. On that same note, don't panic when mixing your wet and dry ingredients. It may take a few extra minutes of mixing for the flour to fully hydrate and all the ingredients combine so don't add more water right away – this is a very common mistake!
The Yeast – without getting too technical, you can use Active Dry Yeast (ADY) or Instant Dry Yeast (IDY) for this recipe. Traditionally, we are use to dissolving the yeast before using it. However this is not necessary for this recipe. Yeast needs 3 things to thrive; moisture (water and oil), food (sugar), and warm temperatures – we still have these components regardless if it is dissolved first or not. What you do want to ensure, is that your yeast is alive and you can do this by proofing your yeast, "proving" that the yeast is alive and active. Dissolve the contents of the packet of yeast in 1/4 cup warm water with 1 teaspoon sugar. After 10 minutes, the mixture should be bubbly. If this does not occur, toss the yeast. You can then go ahead and add it to your mixture and reducing water in the recipe by 1/4 cup.
Other Recipe Tips and Notes
Yield & Pizza Crust – using this recipe, I was about to make one 12 inch pizza, and another 10 inch pizza. It all depends on how thick you want your crust. I use a cast-iron skillet, as such I prefer a thicker crust as this method produces a light crispy outer layer. Also remember, your pizza dough will rise, so ensure you spread it out thin enough.
Herb & Garlic Infused Olive Oil – here is a great article from the kitchn on how to infuse olive oil – click here. This is not necessary for this recipe, as you can still obtain the flavour by adding the ingredients to the dough prior to baking in the oven.
The Order – start with preparing your pizza dough, then while it's proofing prepare your basil olive oil tomatoes, your mozzarella, and your rosemary/garlic if not using infused olive oil.
Here's a video of the dough making process…
Form the dough, let it rise, make your crust, add olive oil, minced garlic and rosemary as your base!
Here's another pizza recipe – Summer Peach and Prosciutto Pizza with Balsamic Glaze Drizzle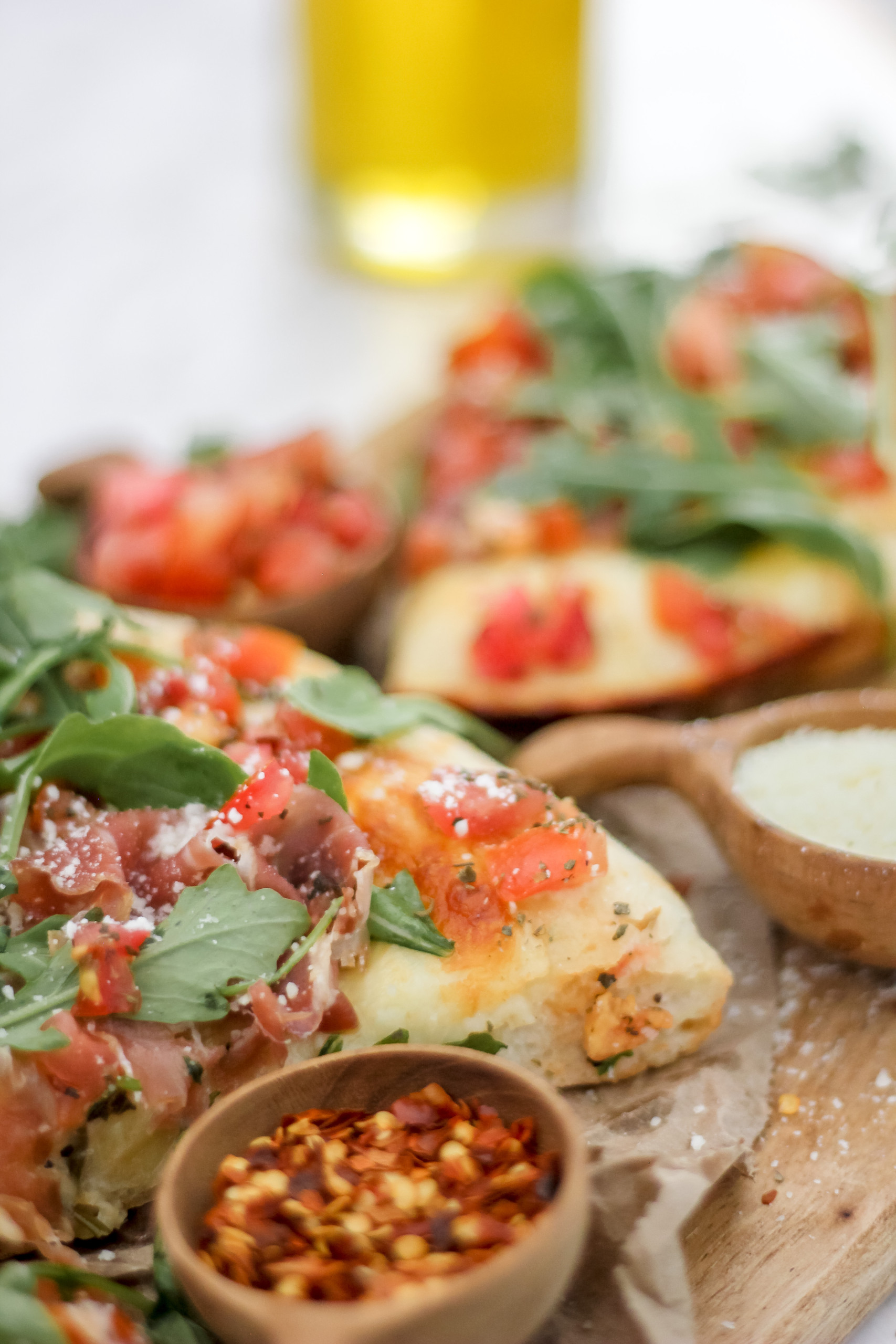 Prosciutto, Arugula, and Herbed Tomato Pizza with Homemade Pizza Dough
The best and easiest homemade pizza crust dressed with a garlic, rosemary olive oil base, and topped with mozzarella, prosciutto, herby diced tomatoes, and fresh arugula.
Ingredients
Pizza Crust

2½

cups

All Purpose Flour sifted

½

tsp

Salt

2¼

tsp

Active/ Instant Dry Yeast

1

tsp

Granulated White Sugar

1

cup

Warm Water range of 105° and 115°F

3

tbsp

Olive Oil divided

Basil Olive Oil Tomatoes

2

Vine Ripe Tomatoes diced

1

tsp

Basil

Salt & Pepper to taste

Toppings

7-10

thinly sliced Prosciutto

3

Cups

fresh Arugula

1

cup

Basil Olive Oil Tomatoes diced

1

Mozzarella Ball sliced

3

tbsp

Rosemary Garlic Infused Olive Oil or 1 sprig Rosemary de-stemmed & 3 cloves Garlic minced

½

tsp

Garlic Salt optional

Parmesan Cheese optional for garnish
Instructions
Preheat oven to 425 degrees Fahrenheit.

In a large mixing bowl, or bowl of a stand mixer add sifted flour, salt, and yeast. Whisk together until well combined on low speed. Proof your yeast prior to ensure it is alive if unsure – see notes section above.

Remove whisk attachment, and add dough hook.

In a small bowl, combine warm water and sugar. Mix together until sugar has dissolved.

Slowly pour sugar water mixture into the flour mixture.

Add 2 tbsp olive oil, and continue mixing all ingredients together on a low speed. Do so until the dough begins to stick together, forming a loose dough ball. The dough should have a tacky, putty-like feel.

Place dough ball on a clean and lightly floured surface, knead until a smooth dough ball forms, which bounces back quickly when poked. (video on how to knead dough – click here)

Place dough in a large mixing bowl, and drizzle with approx. 1 tbsp olive oil, ensuring surface is fully covered. Cover with dish towel or shower cap, placing in a warm area for an hour or until dough has doubled in size.

While dough proofs, prepare tomatoes for basil olive oil tomato topping, add salt pepper and basil to tomatoes, as well as slice mozzarella, de-stem rosemary and mince garlic, set aside.

After an hour, or when dough has doubled in size, remove from bowl and stretch to desired size (video on how to stretch your dough – click here).

If using a pizza pan, grease then press, if using a cast iron skillet drizzle olive oil and then press the dough in.

Next, brush on olive oil, minced garlic, fresh rosemary leaves, and sprinkle with garlic salt.

Add mozzarella slices to pizza, place in oven and bake for 12-15 minutes or until edges are lightly golden, middle baked through and cheese melted.

Remove from oven, add prosciutto, tomatoes, arugula, and parmesan cheese if desired.

Slice, serve and enjoy!
Recipe Notes
You can also use this Tomato Basil Bruschetta Bites recipe (the tomato portion) on the pizza as opposed to the recipe above, and make extra to serve as an appetizer – click here for the recipe. One of the telltale signs that your dough is ready is that it has become completely smooth after kneading, or by poking. If dough bounces back quickly after poking it's a good indicator your dough is ready,
Note, the nutritional information is calculated using a nutrition facts calculator. It is a rough estimate and can vary based on products used.