40 Healthy & Comforting Soup Recipes To Try This Winter, is a soup recipe round-up (collection of soup recipes) from a diverse group of talented food bloggers sharing delicious and easy soup recipes that you must try during the winter months ahead! From your classic healthy chicken noodle soup to dairy-free pot pie soup, vegan tortilla soup, butternut squash soup, cauliflower soup soup and more! These soup recipes include whole 30 (w30), vegan, vegetarian, dairy-free, gluten-free, and paleo options!
25-Minute Vegan Thai Butternut Squash Soup by A Sassy Spoon
Creamy, dairy-free, and spicy vegan Thai butternut squash soup made with fresh ginger, red curry paste, and coconut milk. Ready in 25 minutes!
Traditional Jamaican Pumpkin Beef Soup by The Seasoned Skillet
Traditional Jamaican Pumpkin Beef Soup, this hearty, flavourful, and warming authentic Jamaican soup recipe is a staple in many Caribbean households – whether living abroad or still on the island. Traditionally prepared on a Saturday, this soup is infused with flavours of garlic, thyme and escallion with a pumpkin beef soup base filled with dumplings, carrots, and hearty ground provision, such as yams and potatoes.
Nutrient-rich sweet potatoes are cooked with carrots, onion, ginger and garlic then puréed until smooth with cream and lots of delicious spices, including nutmeg and cinnamon.
A creamy low carb cauliflower soup full of garlic, bacon, and cheese. It's easy to make, full of flavor, and perfect for keto/low carb diets!
Warm up with this hearty spicy sausage kale and potato soup that's complete in under thirty minutes from start to finish. Filled with spicy sausage, wild mushrooms, sweet potatoes, herbs and kale; this flavorful soup is the perfect weeknight meal!
Tuscan Bread Soup (Pappa al Pomodoro) by Barley & Sage
Tuscan bread soup (Pappa al Pomodoro) is a traditional Italian recipe made with tomatoes, fresh herbs, and stale bread, that is as simple as it is delicious!
Vegetarian Tortilla Soup with Black Beans and Rice by Razzle Dazzle Life
Vegetarian Tortilla Soup with black beans and rice and other hearty vegetables. In a rich and flavorful broth made from dried chiles and spices.
Easy Tom Kha Soup (Thai Coconut Soup) by A Sassy Spoon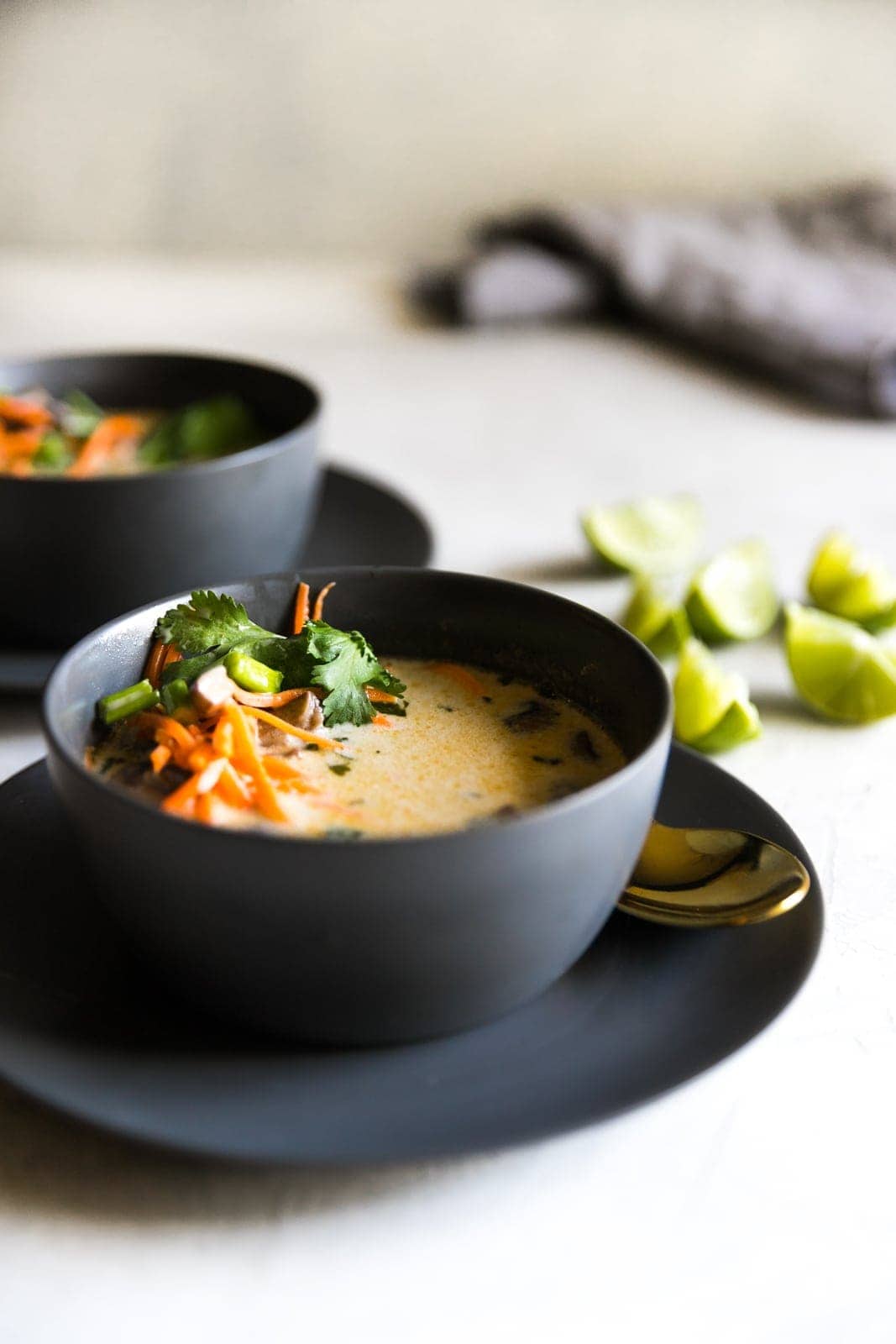 A pantry friendly version of Tom Kha soup (Thai coconut soup) made with coconut milk, ginger, spices, and veggies. Easy vegetarian weeknight dinner idea!
Classic Homestyle Chicken Noodle Soup by The Seasoned Skillet
Classic Homestyle Chicken Noodle Soup is the perfect soup for sick days, cold and chilly nights, or when you need a good pick me up. Made from scratch this easy cure-all soup recipe has chunks of chicken, celery, carrots, egg noodles simmered in a flavourful broth and ready in under an hour! It will give you and the family all the warm, cozy and feel-good feelings!
Dairy Free Clam Chowder by Kit's Kitchen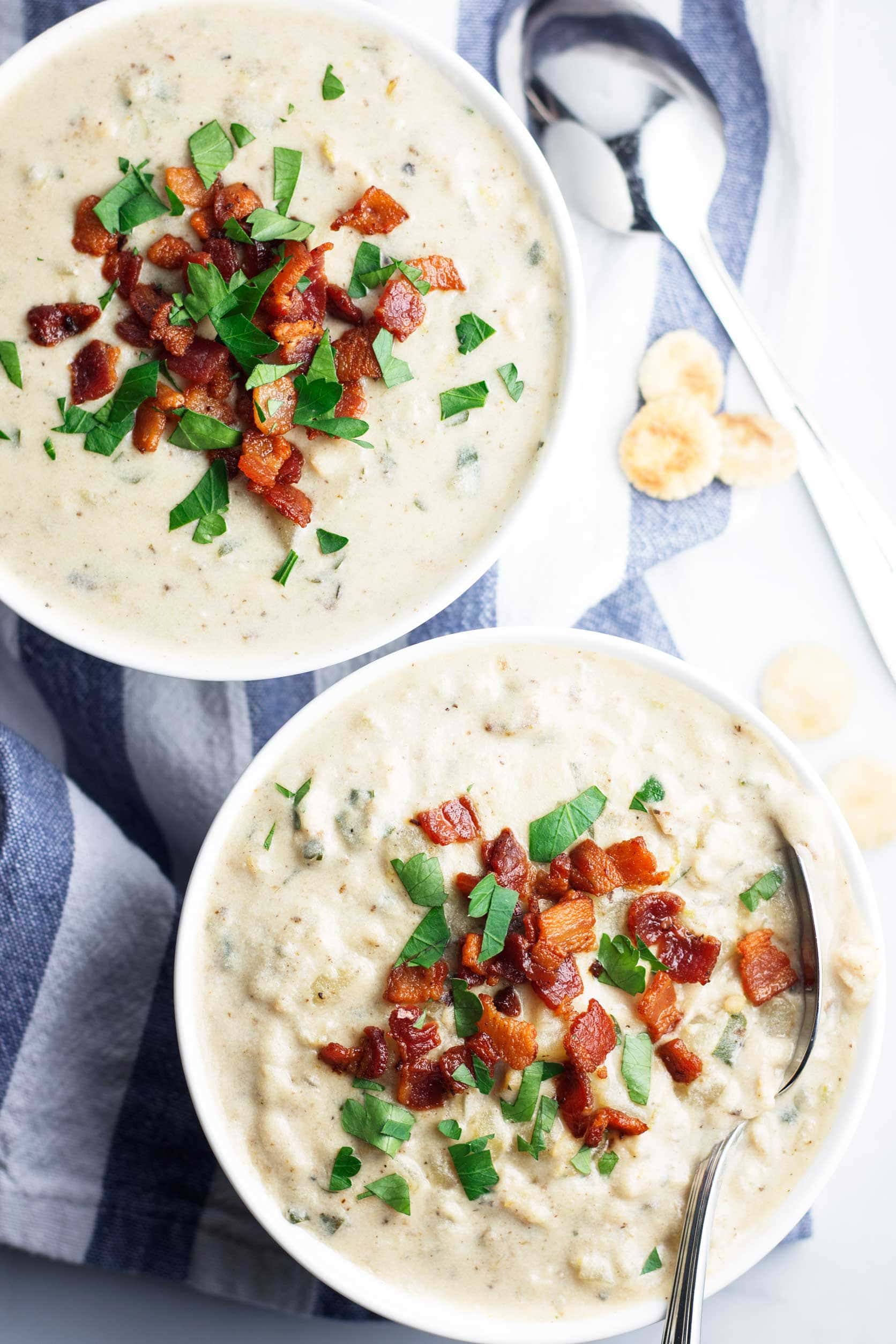 This yummy clam chowder is easy to make and completely dairy free! It is also gluten free, Whole30 approved, paleo, and can be made low carb and keto! This chowder is so creamy and delicious you would never know it doesn't contain heavy cream!
For more Healthy & Comforting Soup Recipes To Try This Winter Click Here
Easy Vegan Tortilla Soup | Vegan + Vegetarian by I Can You Can Vegan
A delicious, flavorful Tortilla Soup recipe that's completely dairy-free and perfect for meal-prep!
How to Make Creamy Gluten-Free Vegan Broccoli Soup by The Vgn Way
Broccoli soup is an easy fall/winter recipe that keeps you warm and tastes absolutely fantastic.
Immunity Boosting Coconut Carrot Lentil Soup by Good Food Baddie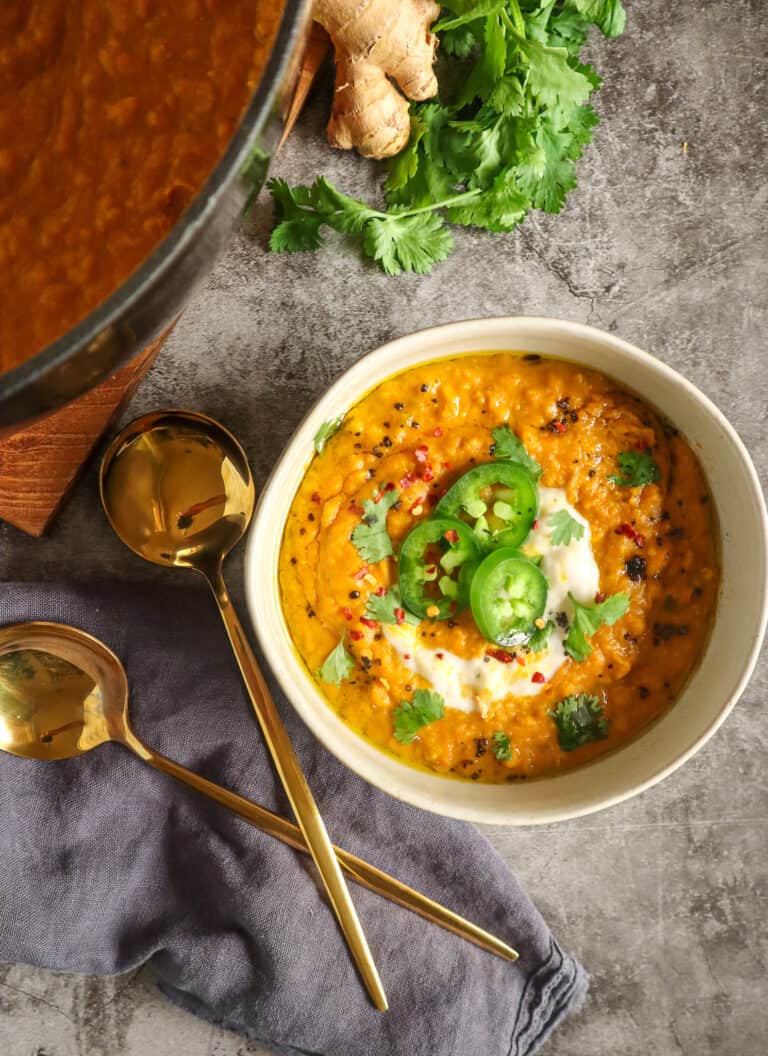 Coconut Carrot Lentil Soup is a delicious, nutrient-rich soup packed with ginger, turmeric, carrots, and more to help boost your immune system and help your body fight off illness. This creamy soup comes together easily and is both vegan and gluten-free! It is perfect for the whole family to enjoy or as a tasty meal-prep option!
Butternut Squash Soup by Hangry Woman
Delicious and silky butternut squash soup takes a few simple ingredients and makes an elevated comfort classic.
This Medicine Bomb Chicken Soup is the cure for what ails ya! Made with natural anti-inflammatory ingredients it's the soup you want for the season.
All the spicy and zesty Mexican flavors you love right in a warm bowl of soup. This comforting quinoa enchilada soup is hearty, healthy, gluten-free, and vegetarian!
A good tomato bisque recipe is so comforting and packed with the warm flavors of basil, tomatoes, and garlic. And in this recipe I've topped it with homemade croutons and crumbled goat cheese.
This Caribbean Carrot Ginger Soup is simple, full of flavor and absolutely delicious! Sweet carrots, spicy ginger and creamy coconut milk make this a creamy, satisfying and healthy vegan soup.
Canja De Galinha – Cape Verdean Chicken Soup Recipe by Crumb Snatched
Canja is the mother of Cape Verdean comfort food. It's a thick, rich and delicious chicken soup that's made with rice, vegetables and simple seasonings.
Creamy Garlic + Sage Cannellini Bean Soup by Evolving Autumn
This super creamy Garlic + Sage Cannellini Bean Soup is not only full of flavour, but you'll be serving up a bowl of plant-powered protein and fibre thanks to the cannellini beans. But bean haters, have no fear! Once blended, you won't even know that they're in there, I promise!
For more Healthy & Comforting Soup Recipes To Try This Winter Click Here
Healthy Slow Cooker Chicken Tortilla Soup by Fox and Briar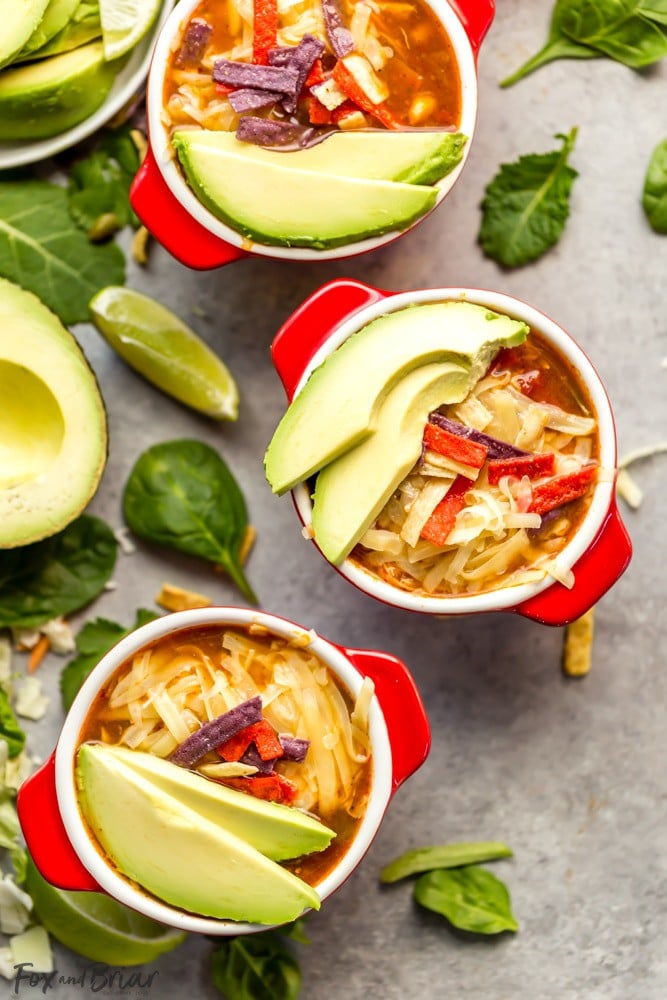 This Veggie Packed, Healthy Slow Cooker Chicken Tortilla Soup with Southwest Salad is the perfect hands off hearty and healthy meal. A great meal to serve at the big game to balance out all the snacks and beer, or as a busy weeknight dinner!
This vegan and gluten free vegetable soup has a plethora of beans and veggies that will make your mouth water and perfect for curing winter blues.
Roasted Red Pepper and Pumpkin soup is a delicious vegan soup that's easy to make! This soup will keep you warm all winter long!
This Whole30 Chicken Soup is a recipe rooted in Jewish tradition, it will soothe your soul and nourish your spirit. Using fennel seed and caraway seed it has an incredible unique and comforting flavor.
Whole30 Salsa Verde Turkey Soup by Wooed by the Food
Whole30 salsa verde turkey soup! So much flavor and so simple to put together. You could sub chicken for the turkey and make it whole30 compliant with whole30 approved chicken sausage and salsa verde!
This sweet potato soup is the perfect quick, weeknight dinner. Easy to make and topped with roasted aubergine it is deliciously spicy and filling.
Hearty vegetable stew is the perfect comfort food for any night. Full of wholesome vegetables, seasoned well, and bathed in a delicious tomato based stew.
Spicy and full of goodness, this easy to make soup is a family favourite. It is delicious and hearty and the perfect comfort food.
Delicious, creamy and comforting carrot soup. This soup brings out the natural sweetness of carrots, with a slight kick from ginger. Vegan and gluten free too.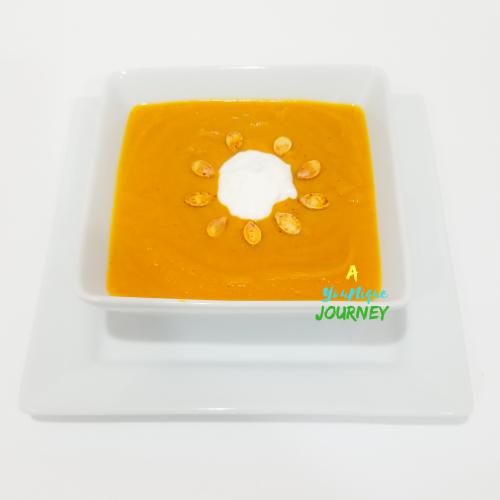 Jamaican Pumpkin Soup is made with pumpkin puree packed with amazing spices and herbs that is perfect for those cold rainy nights in the fall or whenever you are in the mood for soup.This Jamaican style soup is super creamy, rich, comforting, healthy and it tastes even better the next day.
Comforting, creamy and extremely flavorful cheesy Keto cauliflower soup. I have also included instructions on how you can make this soup using your pressure cooker or Instant Pot.
For more Healthy & Comforting Soup Recipes To Try This Winter Click Here
Mushroom Pho Soup (Vegan + Gluten-Free) by The Vgn Way
This umami packed and easy to make Mushroom Pho Soup recipe is made with hearty Portobello and flavor packed shiitake mushrooms; for the most delicious rich vegan broth based soup you've ever tried.
Smoked Tomato Soup with Roasted Eggplant by Homemade in Astoria
My meatless smoked tomato soup delivers the ultimate comfort by way of a charcoal grill, wood chips, and a slow simmer with oven-roasted eggplant. Smoking tomatoes on a brisk, off-season day is something that needs to happen more often.
An iron boosting vegan soup that is quick and simple to make.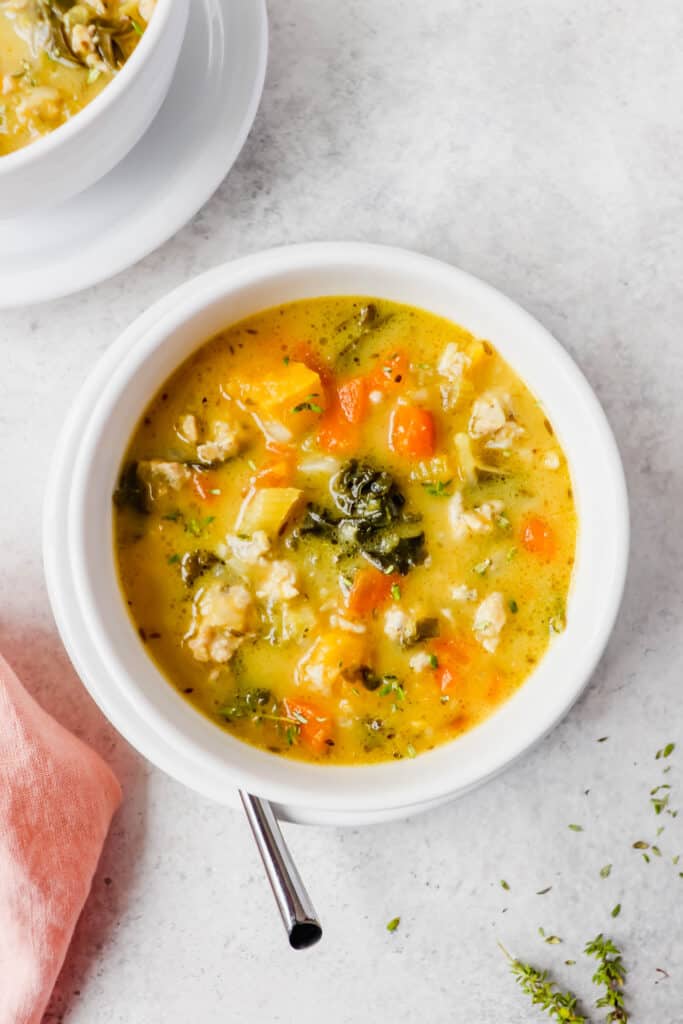 This Easy Creamy Turkey & Kale Soup is a wonderful, quick, one-pot meal that's got those delicious Fall flavors that are so comforting. It's AIP, paleo and Whole30 compliant.
Chicken Pot Pie Soup (Non-Dairy) by Coined Cuisine
This dairy-free Chicken Pot Pie Soup gives you all the flavor and none of the heavy bread carbs! Using frozen veggies and rotisserie chicken, you can also cut your prep time in half.
A beautiful soup made around the holidays, Pozole Verde Soup is certain to become a family favorite.
All the goodness of black lentils and the added smoky flavour of Turkey bacon. This soup is everything you need on a rainy day.
Healthy Hearty Italian Sausage Tortellini Soup by The Seasoned Skillet
Healthy Hearty Italian Sausage Tortellini Soup is a one pot tomato-based soup recipe made with Italian sausage, sauteed onions, and garlic, chunky tomatoes, cheese tortellini and loaded with hearty vegetables like carrots, celery and kale. Serve for a healthy and warming winter lunch or dinner with a garnish of fresh parmesan and rustic whole wheat bread. Recipe also includes a step-by-step video for easy follow-along, as well as make-ahead and how to freeze tips!
List of 40 Healthy & Comforting Soup Recipes to Try This Winter
For more Healthy & Comforting Soup Recipes To Try This Winter Click Here