Slow-Cooker BBQ Pulled Chicken Sandwiches are an easy, sweet-tangy, fall apart tender, and delicious! Served on butter toasted brioche buns, and a spoonful or three of creamy coleslaw, it'll definitely be one you add into your rotation of meals!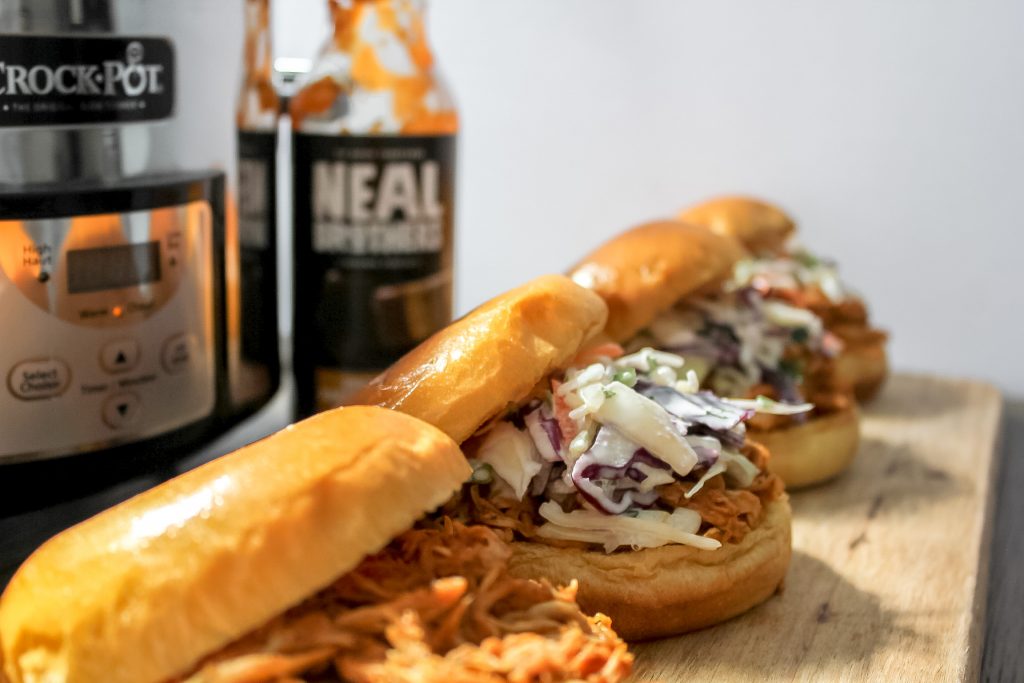 Sometimes we opt to wait for the warmers temps to whip up some of our favourite BBQ meals – but living in Canada, you cannot hold your breath! It is May 9th 2020, and while my chicken was in the slow cooker, it was hailing, snowing and brisk outside! Although nothing compares to fresh hot chicken off the grill, the flavours and tenderness of this recipe cannot be beat! So let's get into it!
BBQ Pulled Chicken Sandwiches Variations & Recipe Notes
Vegetarians – Unfortunately for this recipe, I don't have a tried and tested substitute to offer. However, I have seen something similar done with Jackfruit as the meat substitute – I am so intrigued to try it. Once I do, and it's "Taneisha Approved" I will certainly share!
Servings – The number of sandwiches this recipes makes, depends on how stuffed you want your sandwiches. This recipe can easily make 8 sandwiches. Feel free to add more chicken – just remember not to over-crowd your slow cooker.
Chicken Breasts or Thighs – I've done both. If not carefully watched and prepared chicken breasts can go from being done and ready to dried out real quick. On the other hand, chicken thighs are naturally more moist and tender. It's up to preference and how much handling you want to do. If you use thighs, be prepared to remove the bones, which will be an effortless fall of the bone task.
How to Keep Moist – chicken breasts can easily dry out. To prevent this, ensure you use enough BBQ Sauce as well, you can add chicken stock to the crock pot. Once you've shredded the chicken – do not keep on warm, it will dry out! Here are some other tips:
Pound the chicken breasts to an even thickness
Internal temperature is the best indicator for doneness – 165 degrees Fahrenheit
Served Best With – Pulled Chicken is most commonly served on buns – my favourite one to use are the Brioche Buns, so soft and tasty! However, you can serve over rice, in wraps, or even on a salad!
Other Delicious Recipes to Try
Smoked Cheddar and Bacon Grilled Cheese with Caramelized Apples & Onion, Chicken Gyros with Tzatziki & Homemade Pita, & Spicy Crispy Chicken Sandwich
I'd greatly appreciate if you left a star ★ rating (located near the top of the recipe card below), as well as leave a comment if you found this blog post helpful! 
Print Recipe
BBQ Pulled Chicken Sandwiches (Slow Cooker Style)
This easy Slow-Cooker BBQ Pulled Chicken sandwich is sweet-tangy, fall apart tender, juicy and delicious! Served on butter toasted brioche buns, and a spoonful or three of creamy coleslaw, it'll definitely be one you add into your rotation of meals!
Ingredients
4 large Chicken breasts or Thighs
1 tbsp Olive Oil
1 tsp Garlic Powder
1 tsp Onion Powder
1 tsp Black Pepper
1 tsp Parsley
1 tsp Paprika if you have Smoked Paprika that works as well!
2 tbsp Brown Sugar
1 tbsp Worcestershire Sauce
350ml Favourite BBQ Sauce - usually a full bottle or more.
Chicken Stock (optional)
Brioche Buns (optional)
Creamy Coleslaw (optional)
Instructions
1

Season your chicken breasts with olive oil, garlic powder, onion powder, black pepper, parsley, paprika (smoked paprika works as well), brown sugar, and Worcestershire sauce. Mix together until chicken is thoroughly coated.

2

Add the chicken breasts to your Slow Cooker (I have the traditional Crock Pot). Pour the BBQ Sauce over top.

3

Set the timer to 3-4hrs on high, or 6-7hrs on low.

4

Once the countdown has ended, remove the chicken and add to a large plate.

5

Shred with 2 forks, you can spoon the sauce from the slow cooker on top and mix together (see notes section for additional tips).

6

Serve on butter toasted buns, top with coleslaw or side of your choice.

7

Most importantly - enjoy!
Notes
You can remove your chicken breasts and shred outside of the slow cooker, or you can choose to shred inside (be careful not to scratch your slow cooker pot insert). If near the end, the sauce is watery or not thick enough to your liking you can add breadcrumbs or a mixture of cornstarch and water to thicken it up. Remember, you want moist, tender chicken - not dry. If you leave your slow cooker on warm it will dry out! You can add additional BBQ Sauce, as well as Chicken Stock to keep it nice and moist!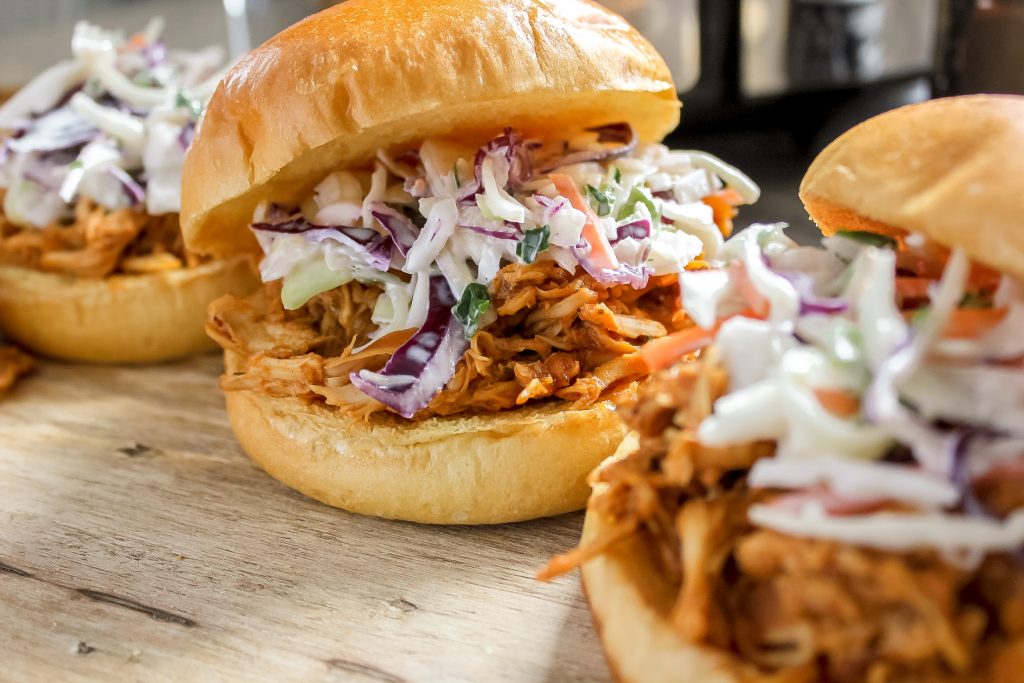 DID YOU MAKE THIS RECIPE?
Leave a comment below and a star rating above, or tag @theseasoned.skillet on Instagram and use hashtag #theseasonedskillet!
ARE YOU STILL HUNGRY?