One Pot Creamy Cajun Shrimp Pasta with Sausage is an easy and delicious weeknight one pot pasta dinner recipe. It's spicy and creamy with sautéed ed shrimp, smoky andouille sausage, and linguini pasta. Full of bold and mouth watering flavours, simple and quick to pull together it's one the whole family will enjoy!
Are you a lover of pasta recipes? Try these one pot, easy, flavourful and family friendly recipes next: Creamy Tomato Pesto Shrimp Pasta, Creamy Sun Dried Tomato and Spinach Seafood Pasta, and this Bruschetta Pasta Salad!
One Pot Creamy Cajun Shrimp Pasta with Sausage
This is the perfect weeknight recipe for a family, or for individuals looking to enjoy leftovers the next day. The flavours are bold, delicious, have the perfect amount of spice yet creamy at the same time.
I love serving this dish with a side of toasted buttery garlic bread and adding on garnishes like fresh parmesan and herbs like parsley, thyme, cilantro or chives!
You'll Love This One Pot Pasta, Here's Why:
One Pot Ease – because everything comes together in one pot, there's very minimal cleanup of pots, pans, and utensils!
Versatile – easily switch out the sausage and shrimp to your preferred protein; try chicken, extra veggies, crispy tofu etc.
Meal Prep the Leftovers – this is the perfect recipe to make and meal prep for the weeks lunches or dinners. Plus, leftovers always taste better!
What's Cajun Seasoning?
It's a seasoning blend originating in southern America, but mainly Louisiana. The seasoning is a spicy blend featuring paprika, cayenne, garlic powder, peppers, oregano and thyme.
What is the Difference Between Cajun and Creole Seasoning?
Cajun and Creole seasoning are often used interchangeably however, there are difference between the two very delicious blends.
Cajun seasoning often consists of a variety of ground pepper such as black pepper, white pepper and cayenne. Whereas, Creole seasoning often contains more herbal ingredients such as thyme, rosemary and oregano.
Why Cook Pasta Separately?
A true one pot dish, uses only one pot of course! However, this recipe uses two. Although this recipe can be made in one pot (dumping dry pasta, water/broth, and all other ingredients into on pot), it lends a much greater taste and consistency if you do it separately. Reason being, if your pasta cooks in the sauce all the starches from the pasta that normally release into the water will now be in the sauce often leading to a thicker more gloppy final dish.
Ingredients and Ingredient Notes
Shrimp – raw, peeled and deveined.
Sausage – for US residents Andouille, for Canadians Smoked or Schneider's Spicy Sicilian Smoked Sausage work well.
Fettuccine Pasta – any pasta variety will do, however I find this is the perfect size for the sauce to stick to it, as well as balance the size of the sausage and shrimp.
Olive Oil – you will only need a drizzle to sauté the shrimp. You can also use any neutral oil or butter as well.
Cajun Seasoning – any cajun seasoning blend or creole seasoning will work, please check the salt content before and adjust amount as needed.
Fresh Thyme – I personally like using fresh thyme sprigs, however you can also use dried or an alternative herb of your choice.
Granulated White Sugar – you can also use brown sugar, and this is to balance the acidity of the tomatoes.
Garlic Powder – use this generously along with fresh garlic as it adds great flavour.
Onion Powder – same as garlic powder, use this alongside fresh onion to add another layer of flavour.
Dried Oregano –
Cayenne Pepper – this is optional and adds a kick of spice to the dish. Use sparingly if your cajun/creole seasoning has a bit of spice already.
Smoked Paprika – this adds depth of flavour, and should definitely be added.
Freshly Grated Parmesan –
Fresh Parsley – or your favourite herb for garnish.
Salt & Black Pepper – depending on your preference as well as whether or not your other seasoning have salt you may choose to omit, and is used to enhance flavour.
Onion – you can use yellow or cooking onions, sweet onions or white onions.
Garlic – use nice full cloves, and mince or finely chop.
Chicken Broth – you can use your preferred stock or broth of choice. This adds flavour as well as deglaze the pan.
Cream – heavy, whipping or cooking cream all work well here. This adds a rich creaminess to the dish.
Crushed Tomatoes – this is the base of the sauce and from here we build the flavour.
Worcestershire Sauce – this is a fermented condiment made from a base of vinegar and flavoured with many other ingredients. It's key in bringing together sauces.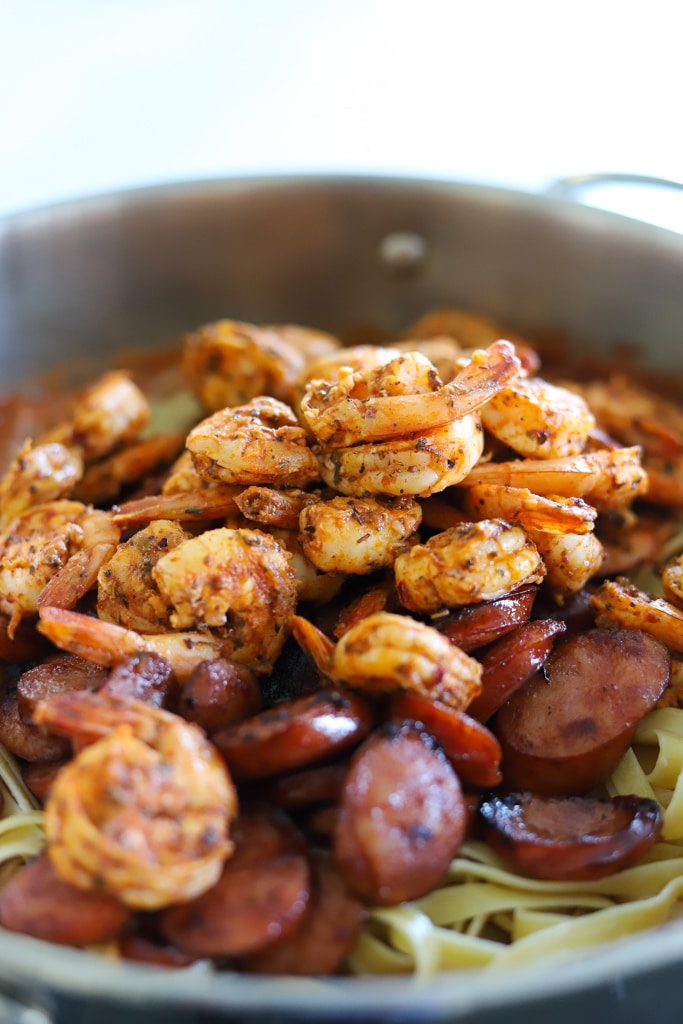 What You Need to Make this Recipe (Equipment and Tools)
Cutting Board – this is helpful for chopping the onion with ease. You can place a damp piece of paper towel underneath the board to prevent it from slipping.
Large Chef or Butcher Knife – this is helpful for preparing the ingredients for the pasta – sausage, onion etc.
Large Skillet or Sauté Pan – ensure this is large enough to hold all the ingredients.
Large Wooden Spoon – for stirring together the sauce.
Tongs – for tossing together the sausage, shrimp and pasta in the sauce.
How to Make Cajun Shrimp Pasta with Sausage
1. Prepare All Ingredients – ensure all ingredients are nearby as things will come together fairly quickly.
2. Season and Sauté Shrimp & Sausage – season, sauté , and remove from pan your the shrimp. Add your sausage and cook until browned and nicely caramelized, then remove and set aside.
3. Make Creamy Cajun Sauce – in the same skillet, add your onions and garlic, sauté until transparent and fragrant, then add liquids – chicken stock, cream, crushed tomatoes and Worcestershire sauce. Add in your seasoning, cajun seasoning, granulated white sugar, garlic powder, onion powder, dried oregano, dried parsley flakes, cayenne pepper (optional), smoked paprika, salt, and freshly ground black pepper.
4. Add Parmesan and Allow to Simmer – lastly add your parmesan cheese, allow to simmer until blended then add back your pasta and sausage then shrimp. Mix together until incorporated using a tong, garnish with more parmesan and fresh parsley, serve and enjoy.
TSS Note – sugar cuts the acidity of the tomatoes and creates an overall more balanced sauce
One Pot Creamy Cajun Shrimp Pasta with Sausage Recipe Variations
Although this recipe calls for shrimp and sausage, feel free to make the following changes:
Protein – use chicken instead of shrimp or sausage.
Make it Vegetarian – omit the shrimp and sausage and opt for mushrooms and added veggies like broccoli.
Level of Spice – for a milder taste, omit the cayenne pepper.
See My Story Below for Step-by-Step Instructions!
What Type of Shrimp to Buy
Wild Caught Shrimp – look for medium or large wild caught shrimp as opposed to farm-raised for the best flavour and texture.
Raw Deveined Shrimp – opt for raw (not precooked), peeled and deveined shrimp. This will save you loads of time, as the only prep you need is to defrost and season the shrimp.
Frozen Shrimp – frozen shrimp is frozen shortly after it's caught which means it's frozen at peak freshness! It's often more economical and quite easy to find. Also, shrimp behind the counter is typically frozen and thawed in most cases.
How Do I Defrost Shrimp?
Here are two options for how you can defrost shrimp:
Refrigerate Overnight Method (Easy): one of the simplest ways to defrost shrimp is in your refrigerator overnight. Simply remove the desired amount of frozen shrimp, place in a covered bowl and let them defrost in the refrigerator overnight.
Cold Water Method (Quick): the quickest way to defrost shrimp is to add the desired amount of shrimp to a large enough bowl, then fill the bowl with cold tap water and let it sit for 10 minutes. After 10 minutes, replace the water with new cold tap water and allow the shrimp to sit once again – repeat after 10 minutes if needed until fully thawed.
How Long Does Defrosted Shrimp Last in the Refrigerator?
After you have defrosted your shrimp, store them in the fridge for 1 to 2 days.
What's the Easiest Way to Peel and Devein Shrimp?
It is highly recommended that you purchase shrimp that is already peeled and deveined. However, in the event that you purchase shrimp that is not, follow these simple steps to get the job done:
Pull Off Head and Legs – if applicable, pull off the head and the legs.
Remove Shell – . remove, starting on the head end, the outer shell leaving the tail attached if desired.
Remove and Discard Vein – locate the vein in the shrimp running along its back (also underneath – however this is optional) and make a shallow cut about 1/4 inch deep and use the tip of the knife to lift it out and discard.
Rinse & Rest – rinse the shrimp and lay on a paper towel to dry until ready to use.
TSS Good to Know – larger shrimp often have grittier veins, which can have an unappealing texture and look.
Should I Cook Shrimp with Tail On or Off?
You can cook shrimp with the tail on or off, depending on your personal preference. However, much like meat bones, the shell and tail of the shrimp contain much flavour which adds to the overall taste of the dish.
How to Know When Shrimp is Done Cooking?
Shrimp like most seafood cook fairly fast around 2-3 minutes per side, as opposed to other kinds of protein. There are two visual cues you can use to ensure you don't overcook your shrimp – colour and shape.
Colour – when done, shrimp turn pink and opaque in colour with some pink and bright red accents as opposed to their translucent grey raw state. Remove the shrimp from the heat source once it is fully opaque without any grey left.
Shape – as shrimp cook, their muscle contract which cause them to curl this is the second indicator of doneness. Often it is said that perfectly cooked shrimp have "C" shape while over cooked shrimp have an "O" shape. However, most shrimp unless using jumbo shrimp can be perfectly cooked with a "C" shrimp as well. Once your shrimp begin to curl, they are usually done cooking.
Frequently Asked Questions (FAQs)
What Cajun seasoning should I use?
My preferred brand is the Club House Cajun Seasoning however, feel free free to use your favourite – just adjust as needed to prevent the dish from being too salty.
Interested in more Pasta and One Pot Recipes? Check These Out!
If you try this Fried Plantains recipe, we'd greatly appreciate if you leave us a star ★ rating, as well as some feedback in the comment section below if you found this blog post helpful and tasty!
Also, please use the hashtag #theseasonedskillet on social media for a chance to be featured, and don't forget to keep up with TSS on Facebook, Twitter, Instagram, TikTok and Pinterest!
Lastly, sign up to our Friday weekly newsletter for the latest TSS updates, blog posts and recipes straight to your inbox.
Oh, and share, share, share with your family and friends!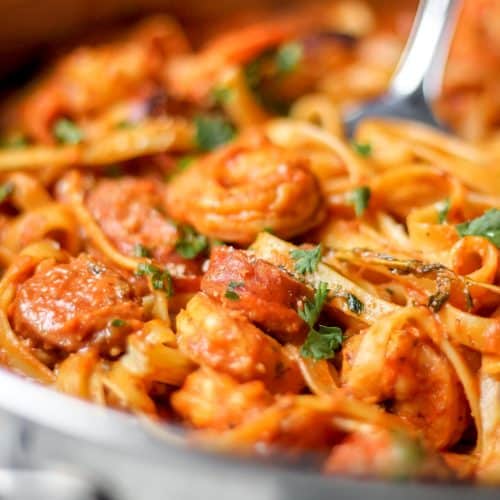 One Pot Creamy Cajun Shrimp Pasta with Sausage
One Pot Creamy Cajun Shrimp Pasta with Sausage is an easy and delicious weeknight one pot pasta dinner recipe. It's spicy and creamy with sauteed shrimp, smoky andouille sausage, and linguini pasta. Full of bold and mouth watering flavours, simple and quick to pull together it's one the whole family with enjoy!
Equipment
Large Skillet or Sauté Pan

Wooden Spoon

Tongs
Ingredients
Shrimp
1

lb

Raw Shrimp

peeled and deveined

2

tsp

Cajun Seasoning

or creole seasoning, see notes below.

1/4

tsp

Black Pepper
One Pot Creamy Cajun Shrimp Pasta with Sausage
454

g

Fettuccine Pasta

2

tbsp

Olive Oil

1

lb

Smoked Sausage

andouille or schneiders spicy sicilian smoked sausage, sliced

1

lrg

Onion

julienned

6

cloves

Garlic

minced

1

cup

Chicken Broth

3/4

cup

Heavy Cream

whipping, cooking or half and half cream

2

cups

Crushed Tomatoes

1

tsp

Worcestershire Sauce

3

sprigs

Fresh Thyme

1-2

tbsp

Cajun Seasoning

or creole seasoning, see notes below.

2

tbsp

Granulated White Sugar

1

tsp

Garlic Powder

1

tsp

Onion Powder

1

tsp

Dried Oregano

1

tsp

Cayenne Pepper

optional, more or less to taste

1/4

tsp

Smoked Paprika

1/4

tsp

Black Pepper

1/4

cup

Freshly Grated Parmesan Cheese

or one parmesan cheese rind, plus more for garnish

2

tbsp

Fresh Chopped Parsley

or fresh herb of choice, for garnish
Instructions
Season shrimp with cajun seasoning and freshly ground black pepper until well coated. Then, slice sausage, cut onions, mince garlic and set aside. Then heat a large pot of water, add pasta to boiling water and cook pasta according to package instructions or until al dente.

Heat a large skillet or sauté pan over medium high heat and drizzle with 1 tbsp of olive oil. Add shrimp and cook for 2-4 minutes, flipping at the halfway point. Transfer to a plate and set aside. Add sausage (add a little more olive oil if needed) and brown sausage until caramelized on both sides, around 4 to 5 minutes. Transfer to a plate and set aside.

If needed add another drizzle of olive oil to the pan, and sauté onions, garlic, and thyme until fragrant and softened. Add chicken broth, cream, crushed tomatoes, worcestershire sauce. Stir until combined and bring to a simmer scraping up any brown bits from the bottom of the pan.

Continue to allow sauce to simmer, and season with cajun seasoning (to taste), granulated white sugar, garlic powder, onion powder, dried oregano, dried parsley flakes, cayenne pepper (optional), smoked paprika, and freshly ground black pepper. Stir until well combined and allow to simmer on medium heat for 5 minutes.

Add in parmesan cheese, and continue to stir occasionally for another 5 minutes. Then add in cooked pasta and sausage stirring to combine and heated through around 2 – 3 minutes. Then add shrimp, stir and remove from heat. Garnish with fresh parsley, fresh cracked black pepper and more parmesan cheese if desired.
Recipe Notes
Cajun Seasoning – please note, depending on the brand of cajun seasoning you use, you may need to adjust the measurements to ensure the dish does not become too salty. Taste your cajun seasoning first and adjust as desired. What Kind of Cajun Seasoning to Use – my preferred brand is the Club House Cajun Seasoning Simmer, Simmer – the longer you simmer, the more the flavours will come out. Allow a few minutes in-between steps for the sauce to come to life. Why Sugar – the sugar cuts the acidity of the tomatoes and creates an overall more balanced sauce. See detailed notes above for additional tips.
Nutrition
Calories:
914
kcal
Carbohydrates:
87
g
Protein:
40
g
Fat:
46
g
Saturated Fat:
18
g
Polyunsaturated Fat:
5
g
Monounsaturated Fat:
18
g
Trans Fat:
0.1
g
Cholesterol:
296
mg
Sodium:
2099
mg
Potassium:
969
mg
Fiber:
7
g
Sugar:
13
g
Vitamin A:
2580
IU
Vitamin C:
13
mg
Calcium:
171
mg
Iron:
5
mg
Note, the nutritional information is calculated using a nutrition facts calculator. It is a rough estimate and can vary based on products used.