It's time to bring some organization to your spice cabinet, drawer or pantry with this easy step-by-step budget-friendly kitchen cabinet makeover guide! From how to purge a spice cabinet, a list of the spices you should have in your kitchen, and the best organization products to use, this is your one-stop-guide which includes a video tutorial.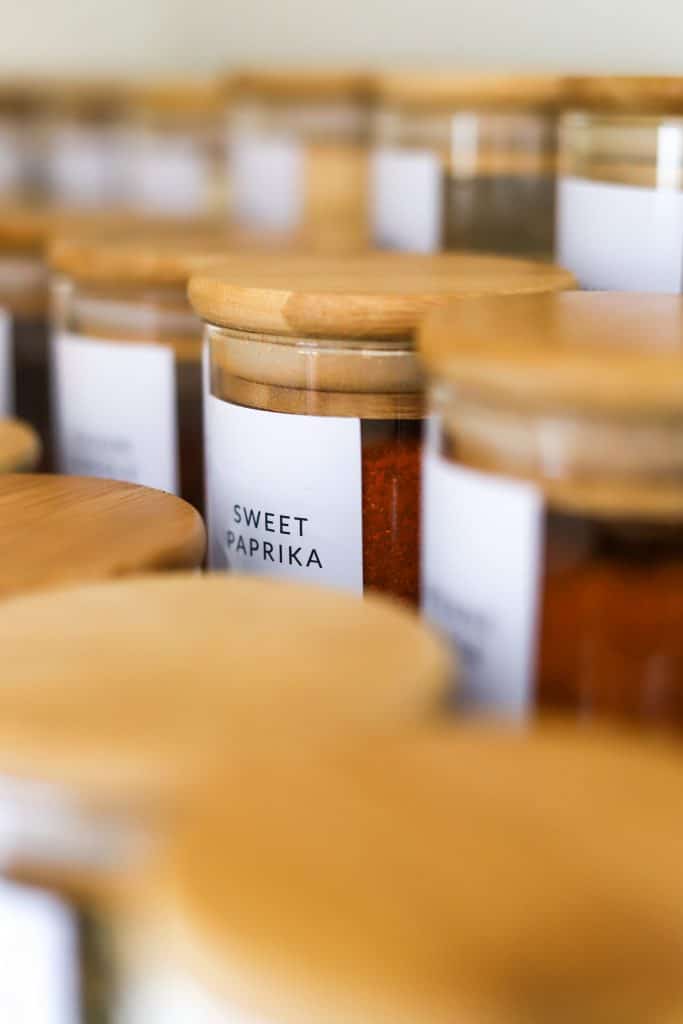 Now if you're anything like me and I'm thinking you just might be considering you're reading this – there's nothing like a good organized space! Whether it's in your cooking space, living space, car or workspace, organized spaces bring a type of joy that can't quite be described!
On the other hand, you may simply be here because just like myself, you love switching things up in the kitchen by adding a little of this spice and a little of that spice and before you know things in the cabinet have become an "organized mess"!
Regardless of what has brought you here, this step-by-step budget-friendly kitchen cabinet makeover guide is sure you leave you with some tips, tricks and nuggets that you can use in your everyday life and in your kitchen spaces.
Looking for More Kitchen Essentials? Check out my online shop to grab a some of my favourite items!
Top Spices You Should Have in Your Kitchen
There are a countless number of spices and herbs available in differing varieties on the shelves in stores, and the experience of stocking your cabinet with the essentials can certainly be overwhelming. Depending on your style of cooking, the type of cuisine you typically cook, dietary needs and preferences, your spices will vary. However, this is a list of the essential spices that I most commonly use and recommend every home cook keep on hand as well!
Garlic Powder – this is a great way to add flavour to any dish you're making and the building blocks in most recipes. While fresh is always best, it's great to have garlic powder on hand for when you're in a rush, and is often used in various rubs, spice blends, dressings, marinades and vinaigrettes.
Onion Powder – just like garlic powder, onion powder is a must-have in the spice cabinet. It's a perfect way to add a layer of flavour to dishes, especially when you're in a tight squeeze. Use onion powder in rubs, spice blends, dressings, and vinaigrettes. Plus, there are no teary eyes with this seasoning!
Ground Cinnamon – is one of the essential spices used in baking recipes, however it is also a great way to add depth of flavour to many savoury dishes such a stews, soups, and sauces. It comes from the inner bark of the tropical Cinnamomum tree and sold in sticks or fine powder.
Ground Nutmeg – although whole nutmeg grated with a microplane gives the best burst of fresh woody flavour, ground nutmeg is a winner just the same! Like cinnamon, ground nutmeg is commonly used in sweet dishes, however it's not to be slept on in savoury ones as well. From creamy white sauces like Alfredo, to soups and meat dishes this is one to keep on hand!
Dried Bay Leaves – these leaves are often used in long-simmering dishes such as soups, sauces, and stews, and are removed before serving the dish. They release a woodsy aromatic aroma and known to be a "supporting actor" with other ingredients used.
Dried Basil – I will always opt for fresh herbs when available, however having dried on hand is quite convenient. Basil is great in many Italian dishes, as well as soups and sauces. It can also be combined with other herbs such a thyme and oregano to make a delicious herby blend used in a variety of recipes.
Dried Oregano – similar to dried basil, oregano is a must have herb to have in your spice cabinet. Prominently use in Mediterranean cooking, this dried herb is great in Greek dishes, pizza and pasta sauces, meat and vegetable dishes.
Cumin – this is one of the world's most popular spices and prevalent in many North African, Middle Eastern and Indian dishes. This aromatic spice has a smoky, earthy taste and adds great depth of flavour when used.
Cayenne Pepper – this is a great way to add a little spicy kick to a variety of dishes. Made from ground chiles, this spice is used in many hot sauces, soups and stews, Mexican, Asian, Indian, and Southern cooking.
Red Pepper Flakes – are made from a mixture of peppers, not to be confused to red chili flakes which are made from one type of chilies. You can use red pepper flakes in pasta dishes, pizza sauce, soups, anything where you want to add some spice.
What is the Best Way to Store Spices?
Spices and herbs should be kept in airtight containers, in a cool dark space or away for direct sunlight and heat sources. Whole spices can typically last anywhere from 2-4 years while ground spices have a 6-month shelf life.
Where to Put Your Kitchen Spice Rack
As mentioned above, the best place to store your spices are in a cool dark space. Most commonly, in a kitchen cabinet or cupboard, a pantry if you have one available, in a drawer, on the counter, hanging behind a door or on the wall.
When Should You Throw Away Spices?
Ground Spices – have the shortest shelf life, and don't usually remain as fresh past the 6 month mark. It's best to give your spices a whiff and if the smell is muted or not a pungent it's time to toss it.
Whole Spices – are typically good anywhere from 3 to 5 years. Once ready to use, toast, grind, grate etc. them to bring the flavour and aroma to life.
As a general rule of thumb, spices should always have a strong smell, taste potent, and be rich color and vibrancy.
How to Organize Your Spice Cabinet – Step by Step Video Tutorial
Spice Storage and Organization
This was such a fun project to complete, especially since we just moved into a new home! Everything was purchased from Amazon with the exception of the herbs and spices of course.
These glass jars with bamboo lids come in a pack of 12, are airtight and offer a minimalist and modern design. This makes them perfect for any kitchen. They have a variety of sizes, however this size is perfect for keeping the right amount of herbs and spices on hand for any homecook.
These black and white spice label stickers are preprinted on waterproof premium vinyl stickers. This prevents them from tearing or peeling off but can easily be removed and replaced if necessary. They are modern and clean and fit perfectly with the bamboo spice jars. It comes with 162 commonly used as well as unique spices, herbs and blend labels.
Disclaimer: the labels have an purple-ish hue, depending on the lighting, however it was white enough to suffice the aesthetics.
This clear plastic organizer expands horizontally up to 26 inches to help you make the most of unused space. This feature makes it perfect to store spices in cabinets and cupboards. The three tier design make spice bottles more easily visible and accessible.