This Whole30 approved, gluten-free burrito bowl is bursting with delicious flavours. Its base is Mexican cauliflower rice, loaded with your favourite add-ons like pico de gallo, avocado, marinated chicken, lettuce, and jalapeños!
It is no secret – I am a sucker for Mexican food! From tacos, to quesadillas, empanadas, enchiladas, nachos, chili and all the fixings like guacamole, and pico de gallo – give it all to me! I'm still unsure if its the flavours of the cuisine like onions and garlic, oregano, chili and cumin, or the vibrancy of culture that has me hooked. But, whatever it is, I am here for it!
What is Whole30?
I, by no means, am a professional, however, what I can do is provide you with a brief overview of what the W30 is, as well as some resources to further assist you. It is a nutritional program designed to change the way you feel, by changing the way you eat. The goal of W30 is to understand and learn how your body responds to certain foods i.e. intolerances. First, by eliminating them and then slowly reintroducing them after 30 days. For more information, visit Cook by Color Nutrition. Stephanie is a Whole30 Certified Coach, Holistic Nutritionist, and the Owner of Cook By Color (CBC) Nutrition. She also provides an 8-week guided W30 coaching service – click this link for more information.
Recipe Tips and Notes
Like some, I was very skeptical of cauli-rice. Before trying, I had already told myself that this once despised cruciferous veggie would taste disgusting. However, it was actually the opposite. It turned out to be a delicious replacement and alternative to rice for our household. I admit, the joke is on me! Like most foods, the way it's prepared makes the difference. So below are a few tips from me to you!
Cauliflower Rice – Preparing cauli-rice is quite easy. You start by washing, thoroughly drying, and removing all outer green leaves from your cauliflower. Then, cut into smaller chunks, remove most of the thick core and toss into a food processor to further mince into rice-sized pieces. If you don't have a food processor, you can also use the coarse side of the grater to break down the raw cauliflower.
How to Cook – There are many ways you can prepare your cauli-rice. Some opt to eat it raw and others microwave, steam, sauté/stir-fry or roast. For this recipe, we will be sautéing. You want to ensure you do not oversteam/cook your cauliflower or it will become very mushy. All you need is a little neutral cooking oil, salt and pepper (optional), and sauté until lightly cooked. So simple!
Make it a #vegan bowl by eliminating the chicken!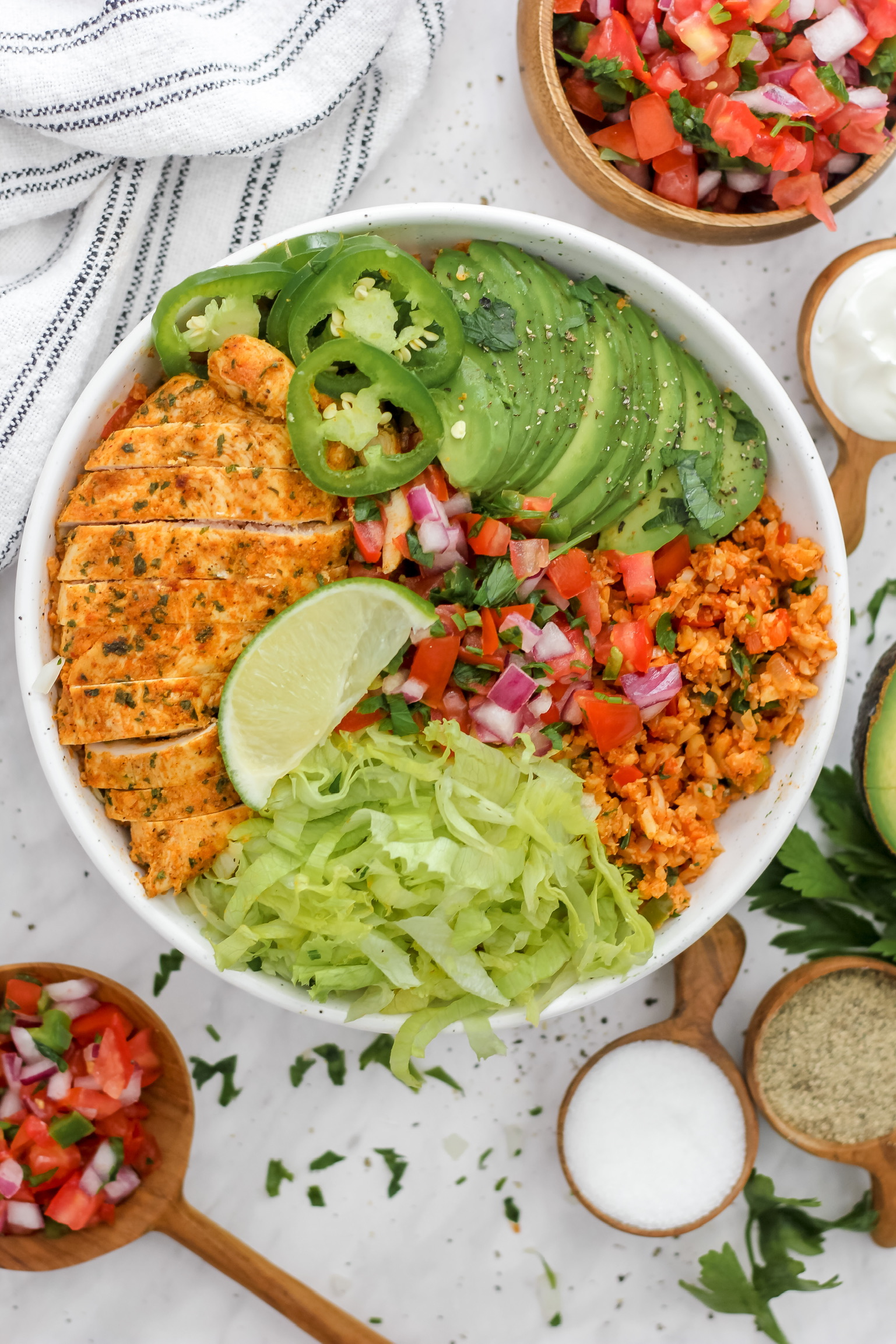 Print Recipe
W30 Mexican Cauli-Rice Burrito Bowl
This Whole30 approved, gluten-free burrito bowl is bursting with delicious flavours. Its base is Mexican cauliflower rice, loaded with your favourite add-ons like pico de gallo, avocado, marinated chicken, lettuce, and jalapeños!
Ingredients
Chicken
4-5 Chicken Breasts thinly sliced
1 tbsp Olive Oil/Coconut Oil/Avocado Oil
1 tsp Onion Powder
1 tsp Garlic Powder
½ tsp Cumin
1 tsp Chili Powder
1 tsp Parsley
1 tsp Chipotle/Cajun Seasoning
1 tsp Paprika/ Smoked Paprika
¼ tsp Salt to taste
Pico De Gallo
3 Medium Ripe Tomatoes diced
¼ Large Red Onion chopped
½ Jalapeño more or less to taste
2 tbsps Cilantro finely chopped
2 tbsps Lime Juice more to taste
½ tsp Salt more or less to taste
Mexican Cauli-Rice
400g Cauliflower Rice
1 tbsp Olive Oil
1 Medium Yellow Onion diced
3 Cloves Garlic minced
½ Medium Red Bell Pepper diced
2 tbsps Tomato Paste
1 tsp Oregano
¼ tsp Cumin
½ tsp Chili Powder
¼ tsp Salt more to taste
¼ tsp Black Pepper more to taste
2 tbsps Cilantro finely chopped
Other Ingredients (as desired)
1 Avocado thinly sliced
Lettuce sliced
Jalapeño Slices
Lime Wedges for garnish
Cilantro finely chopped for garnish
Instructions
1

In a large bowl, add chicken breasts. Drizzle with olive oil and season with onion powder, garlic powder, cumin, chili powder, parsley, chipotle/cajun seasoning and paprika; set aside.

2

Next, move on to preparing your pico de gallo. Using a sharp knife and cutting board, prepare your tomatoes, onions, jalapeños, and cilantro. Add fresh lime juice, salt and pepper. Mix well, and set aside.

3

Next up is your cauli-rice. Start by preparing your vegetables - onion, garlic and red bell peppers; set aside.

4

Heat a large skillet to medium-high heat with 1 tbsp oil. Pan fry chicken breasts until done, flipping only once at the halfway mark. Once done, remove from heat and set aside.

5

In another skillet, add olive oil (see notes section). Sauté onions and garlic until it's fragrant and starts to become transparent.

6

Add cauli-rice then red bell peppers and sauté for another 2-3 minutes.

7

Add tomato paste, oregano, cumin, chili powder, salt, and black pepper. Cook until desired texture is reached (approx. 3 minutes for al dente rice or 5 minutes for a more tender rice). Remove from heat. Stir in chopped cilantro.

8

Slice the chicken, avocado, and lettuce.

9

In a large bowl, begin to assemble starting with a base of the cauli-rice. Add chicken, avocado, lettuce, jalapeños then pico de gallo on top, garnishing with lime wedge, and fresh cilantro.
Notes
You can use the same skillet used to prepare the chicken. Remove all burnt and browned pieces prior to adding cauliflower. You can tailor this recipe to your liking by choosing to omit/add ingredients as you wish.If you're not doing W30, you may choose to add sour cream, cheese, beans, corns.