This will be your new favourite Taco Bowl, it's simple, easy and delicious too! Seasoned ground beef, lettuce, cheese, black beans, corn, tomatoes, and avocado are nestled atop brown cilantro lime rice, and served in a warm tortilla bowl! It's a sure hit for you and the family & perfect for Game Day & Cinco De Mayo!
I've mentioned before in my W30 Mexican Cauli-Rice Burrito Bowl blog post, that I am obsessed with Mexican food! From tacos, to quesadillas, empanadas, enchiladas, nachos, chili and all the fixings like guacamole, and pico de gallo – give it all to me! So today, we are diving into this deconstructed taco bowl! It's so easy to make, and requires very minimal cooking skills to turn out amazing.
Let's Talk All Things Tacos
Tacos are a traditional Mexican dish which consists of varying size corn or wheat tortillas (traditionally small hand-sized), and topped or stuffed with all sorts of deliciousness. They are very versatile, and can be made in a variety of ways, from using beef, pork, chicken, seafood, tofu, walnut meat, as your "meat". To all the added toppings and fixings like rice, beans, lettuce, onions, cheese, tomatoes, sour cream, salsa, fresh pico de gallo, and more… the options are truly endless! It's such a tasty feast, and if you haven't had at least one in your lifetime you're certainly missing out!
Here are some of my favourite recipes to add to this taco bowl, Summer Mango Pineapple Salsa – click here, Easy Pico de Gallo – click here, and Homemade Guacamole – click here.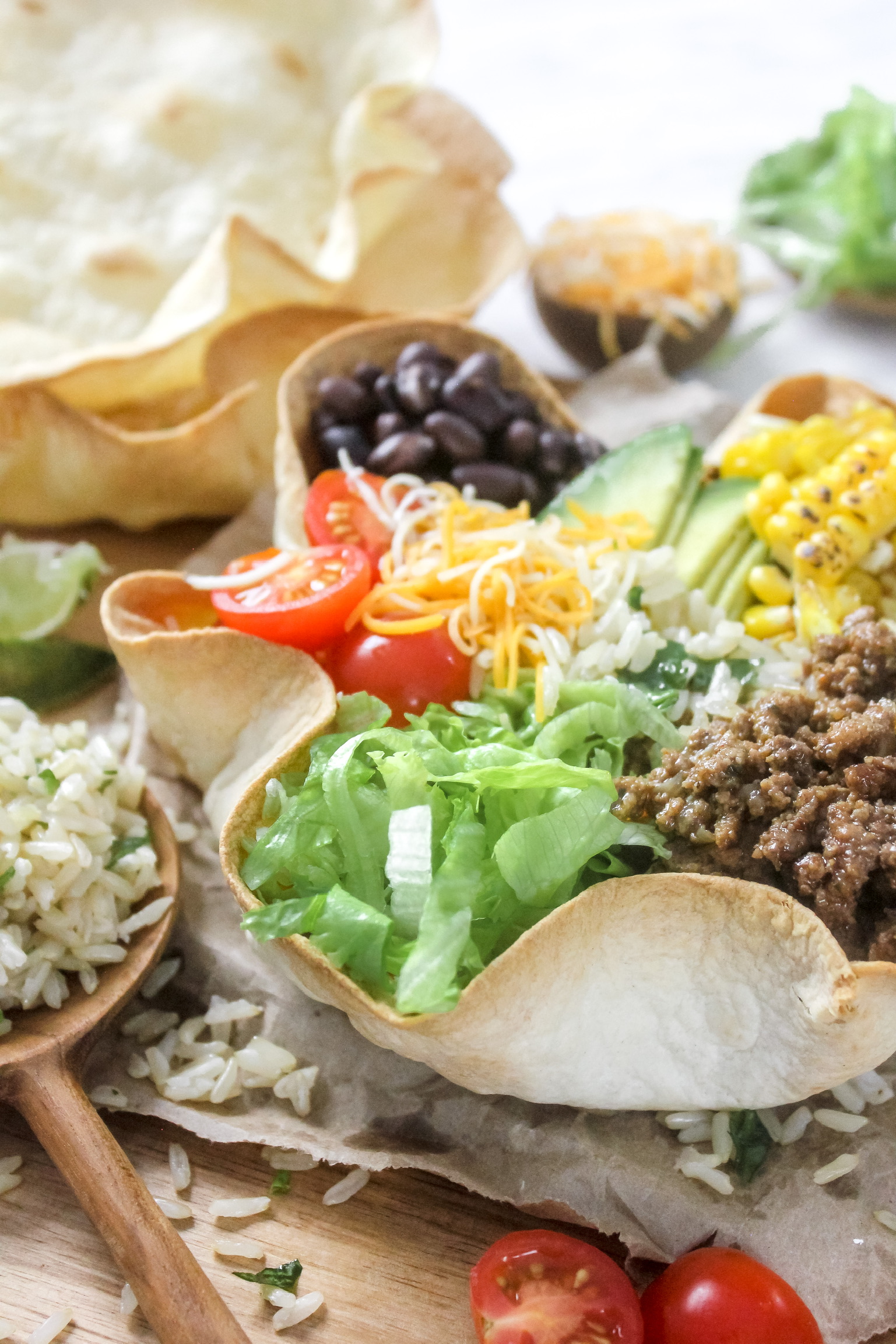 Loaded Taco Bowl with Cilantro Lime Rice
This is a simple, easy and delicious taco bowl! Seasoned ground beef, lettuce, cheese, black beans, corn, tomatoes, and avocado are nestled atop brown cilantro lime rice, and served in a warm tortilla bowl! You and your family are bound to enjoy these healthy Mexican bowls!
Ingredients
Taco Meat

1

lb

Ground Beef

1

Package Taco Seasoning

1

Small Onion

3-4

Cloves

Garlic minced

1

tbsp

Sriracha or Chili Powder more or less to taste

Olive Oil or Neutral Oil for cooking

Cilantro Lime Rice

2

cups

Cooked Brown/White Rice

½

cup

Cilantro

finely chopped leaves and tender stems

Juice from a Lime

1

tsp

Salt

Other Ingredients

6 – 7

large Tortilla Wraps

Guacamole or 1 Avocado thinly sliced

Pico De Gallo or Cherry Tomatoes halved

1

can Whole Corn Kernels rinsed and drained

1

can Black Beans rinsed and drained

½

Iceberg Lettuce thinly sliced

1

cup

Tex-Mex Cheddar Cheese shredded

2

Jalapeños sliced optional

Lime Wedges for garnish

Cilantro finely chopped for garnish
Instructions
Start by cooking your rice according to package instructions. Once finished, remove from heat allow to cool (10-15mins). Stir in lime juice and cilantro, and set aside.

Over medium high heat in a large skillet, or dutch oven, heat olive oil. Add garlic and onion, and cook until fragrant and transparent. Add ground beef and cook until beef has browned, ensuring to break down meat into a crumble, stirring occasionally and draining excess fat. Stir in taco seasoning, sriracha or cayenne/chili powder (optional) until well combined, remove from heat and set aside.

Make tortilla bowls – see notes section below.

Prepare other taco toppings: slice avocado, half tomatoes, rinse and drain corn (I made my own kernels, with butter, salt, pepper, and parsley) and black beans, slice lettuce, shred cheese etc.

Assemble bowl. Rice as your base, and add toppings as desired.

Enjoy!
Recipe Notes
I used brown jasmine rice for this recipe, any rice will do. The ingredient measurements are simple a guideline, you can add, omit, reduce, increase as much as you like! To make your tortilla taco bowls, you can use a few different methods and bake in oven until shape formed and lightly toasted: Tortilla Shell Molds Small 8-inch Cast Iron Skillet Muffin Tins for Mini/Appetizer Sized Taco Bowls Oven-Proof Canning Jars/Bowl – flip jars over, and form tortilla or keep bowls upright and place inside
Note, the nutritional information is calculated using a nutrition facts calculator. It is a rough estimate and can vary based on products used.