This Easy Jamaican Pigeon "Gungo" Peas and Rice is a very flavourful and popular Jamaican rice side dish. It is commonly referred to as Gungo Peas and Rice, where it is cooked in well seasoned creamy coconut milk and served along with traditional Jamaican mains like Jamaican Oxtail Recipe, curry goat, and jerk chicken.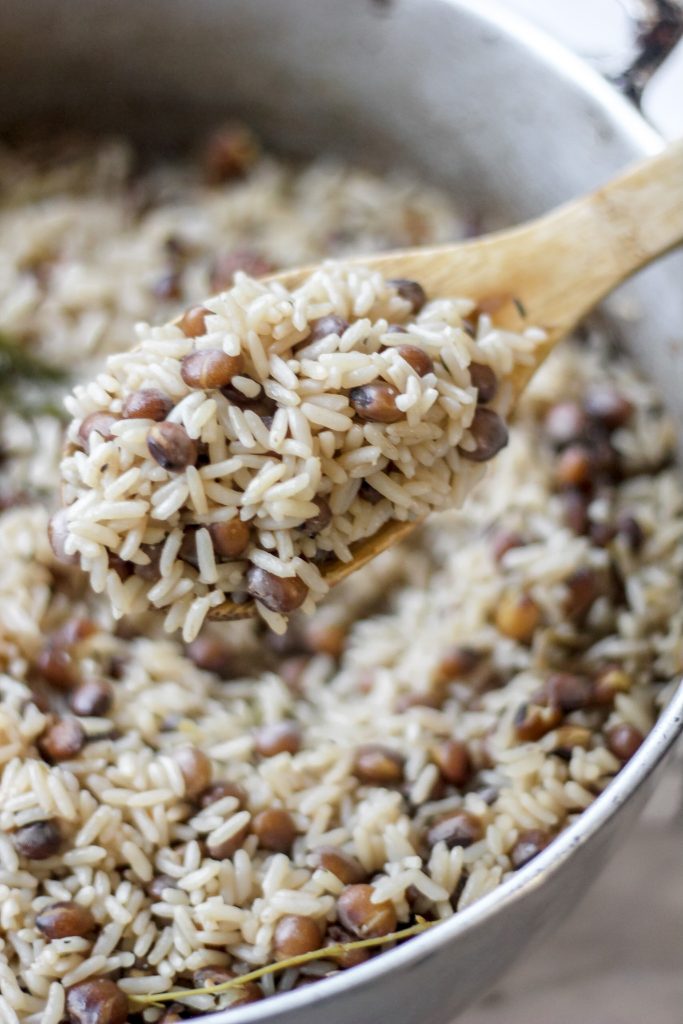 Jamaican Pigeon "Gungo" Peas and Rice Recipe Tips
Soak your Peas – there are many ways in which you can prepare your peas for example, some soak, others use a pressure cooker to cut the time in half. For this method, we soak. This will lessen the amount of time it will take for your peas to become tender when cooking. You can also choose to purchase canned green pigeon peas, this will eliminate the need to soak and cook your peas to tender.
Type of Peas – this dish is made with Dried/ Green Pigeon "Gungo" Peas. However, you can also substitute with Red Kidney Beans, traditionally known as Jamaican Rice & Peas.
Liquid to Rice – you can always add more water, if you're finding that all the liquid has absorbed but the rice is still not cooked. It is better to have less, and add more, than to have too much and end up with mushy rice. When you have added your rice to the pot, liquid should be an about an inch (roughly the first marking from the tip of your index finger) higher when the rice has settled. White rice – approx. 1 inch, brown rice – approx. 2 inches above.
Don't Burn The Rice – once the rice has been added, you should only be cooking on a low heat – a slight simmer. If not, you run a great risk of burning your rice.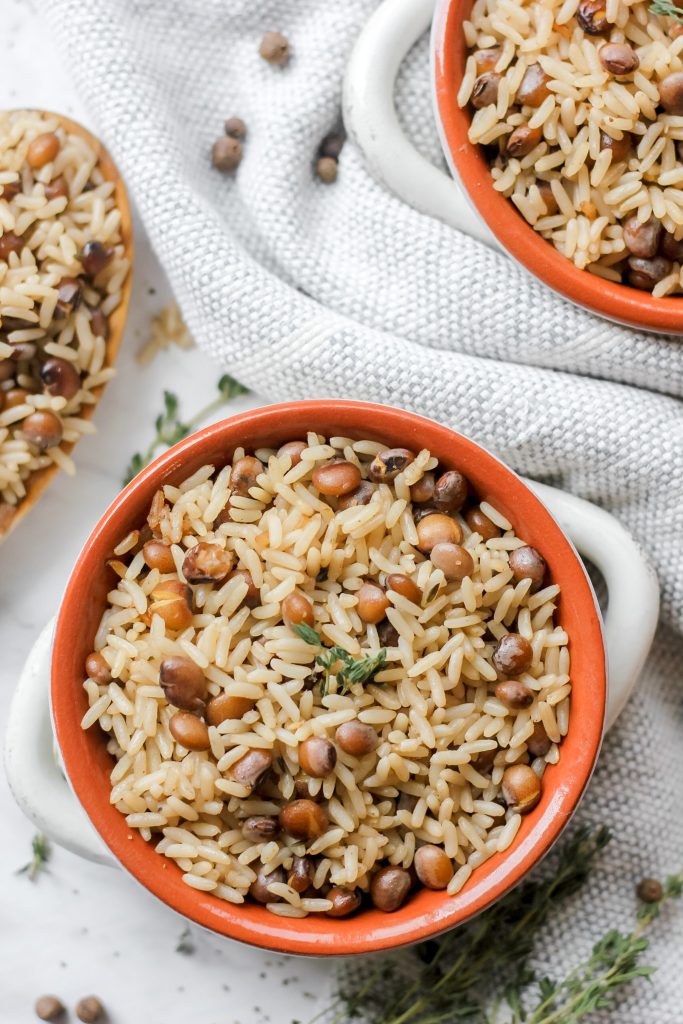 Grab the Grocery List (Screenshot The Below)!
Dried Pigeon "Gungo" Peas
Garlic
Escallion (Green Onion)
Fresh Thyme
Whole Scotch Bonnet Pepper
Whole Allspice Berries (Pimento Seeds)
Pure Coconut Milk
Chicken or Vegetable Bouillon
Seasoning Salt
Rice – Brown, White, Basmati or Jasmine
Other Jamaican Recipes You'll Enjoy!
Vegan Jamaican Bulgur Wheat & Peas (Rice & Peas Remix), Jamaican Jerk Chicken (Quick & Easy Version), Jamaican Curry Shrimp (Seafood)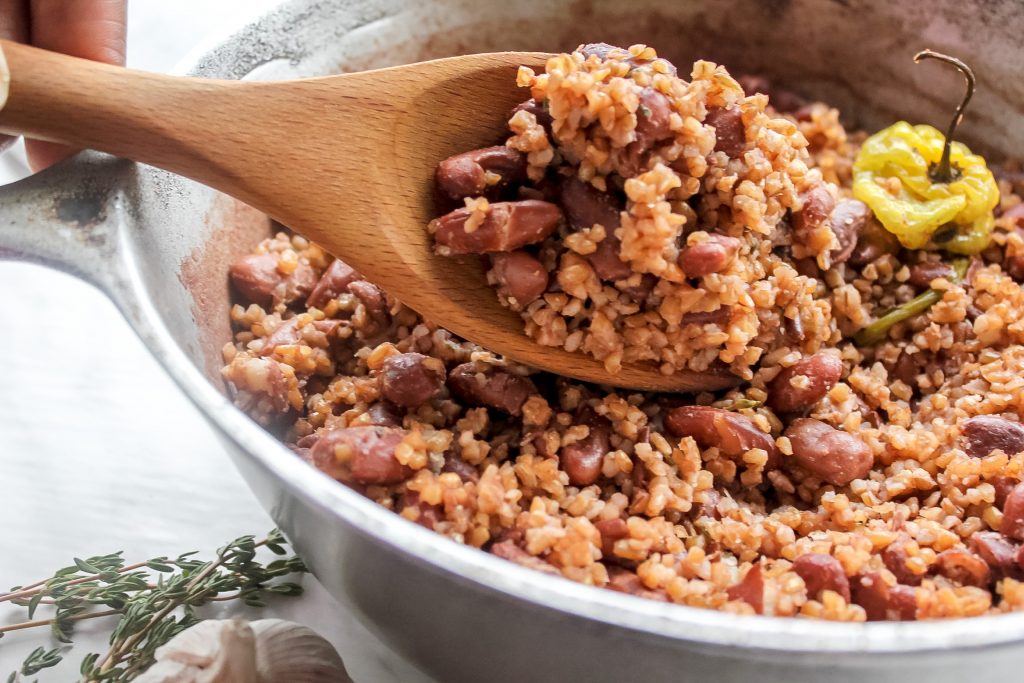 Easy Jamaican Pigeon "Gungo" Peas and Rice
Jamaican Gungo Peas and Rice is a popular side dish of savory pigeon peas and fluffy rice, infused with island spices and creamy coconut milk. This well-seasoned Caribbean staple is cooked to perfection so it's the perfect side to favourites like Jamaican Oxtail, Curry Goat, and Jerk Chicken.
Ingredients
To Soak Peas Overnight

6

cups

Cold Water

1 1/2

cups

Dried Pigeon "Gungo" Peas

2

Cloves

Garlic crushed

1

Stalk Escallion

Green Onion crushed

3

Sprigs Thyme

For Cooking

1 1/2

cups

Water

1

Whole Scotch Bonnet Pepper

5

Whole Allspice Berries

Pimento Seeds

1

cup

250 ml Pure Coconut Milk

1

tbsp

Chicken or Vegetable Bouillon

1 1/2

tsp

Seasoning Salt or Salt more or less to taste

1/2

tsp

Black Pepper

2 1/2

cups

Rice rinsed and drained
Instructions
Rinse dried pigeon peas.

In a medium bowl (with a lid), add peas, water, escallion, garlic, and thyme. Cover and allow to soak overnight – see notes section. If using canned peas, skip to the next step.

In a large dutch oven pot, add additional water, scotch bonnet, allspice berries, and pour in peas mixture (including the water, which is now infused with flavour). Bring to a boil over moderately high heat, stirring occasionally. Ensure there is enough water to cover the peas – you may need to add an additional 1/2 cup of water at the halfway point. The boiling process to cook the peas, will take anywhere between 20-30 minutes depending on how long you've soaked your dried peas.

When peas tender, stir in coconut milk, chicken or vegetable seasoning/bouillon, and allow to come to a boil approx. 5-6 minutes.

Add rinsed rice, stir, cover and simmer over low heat for about 20-30 mins or until all liquid has absorbed; adjust the heat as necessary to maintain a very gentle simmer.

Remove from the heat and let steam for 10 minutes, then discard the thyme sprigs, escallion, pimento seeds and scotch bonnet.

Using a fork, fluff the rice and peas.

Serve hot and enjoy!
Notes
The longer you soak your dried peas, the less amount of time it will take to cook until tender, adjust cooking time accordingly. Once peas become tender, proceed to the next step. // Taste test the rice, to ensure cooked, if not, add a boiling hot water a tbsp at a time and allow to steam longer.
DID YOU MAKE THIS RECIPE?
If you enjoyed this recipe, please consider leaving a ⭐️⭐️⭐️⭐️⭐️ rating and a comment below I always love hearing from you! You can also tag @theseasoned.skillet and use #theseasonedskillet on Instagram!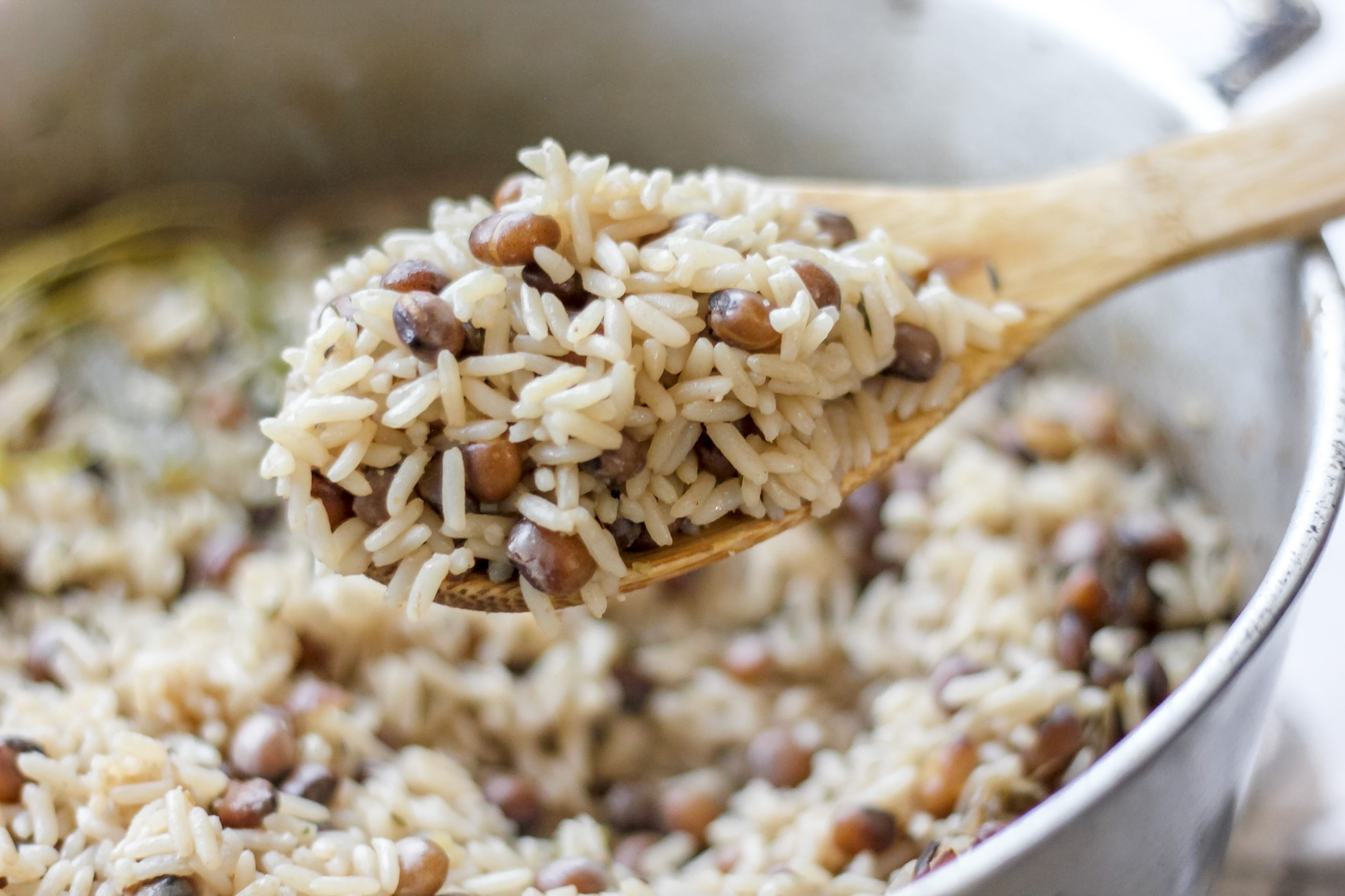 DID YOU MAKE THIS RECIPE?
Leave a comment below and a star rating above, or tag @theseasoned.skillet on Instagram and use hashtag #theseasonedskillet!
STILL HUNGRY?