This is a classic Jamaican stew made with chicken, aromatic spices, and vegetables which creates a boast worthy taste! It's one you'll want to add in your rotation of meals for sure!
This picture is not just about the absolutely yummy stew chicken, but about the pot used to cook it! This type of pot is called a "Dutch Pot" or "Dutchie". It's a staple in the Jamaican culinary culture, and found in many kitchens whether living in Jamaica or abroad. It is a thick iron cooking pot with a tight heavy lid and some believe, the secret behind great-tasting, authentic, Jamaican dishes. I feel it is also important to note that these kinds of pots are extremely loud, and some use them as noisemakers during times of celebration! Unfortunately, this means there's no sneaking into the pot without everyone in the house knowing! But enough about the pot… let's talk chicken!
What Is Brown Stew Chicken?
It is an extremely warm and comforting Caribbean Stew, where the chicken has been marinated in aromatic spices, braised down and complimented with a delicious, savoury gravy. The major key ingredient in this dish is the browning. It is a natural food colouring sourced from a blend of caramel, vegetable concentrates and seasonings. It's commonly used in Caribbean households. This sauce is what's used to deepen the flavour and colour of this dish.
Recipe Tips and Notes
Marinate Your Chicken – Combine all the ingredients for the marinade and ensure you massage it well into your chicken so the flavours can meld together and penetrate.
Braise Your Chicken – Before allowing your chicken to slowly simmer in the liquids, you want to braise all sides of your meat until browned. It creates a lovely texture on the outside while ensuring the inside remains moist and tender.
Make It a Meal – Add in pieces of potatoes and carrots to turn this dish into a one-pot meal.

Pairs well with Rice & Peas, Fried Plantain, Steamed Veggies, Ground Provision i.e. Yams and Potatoes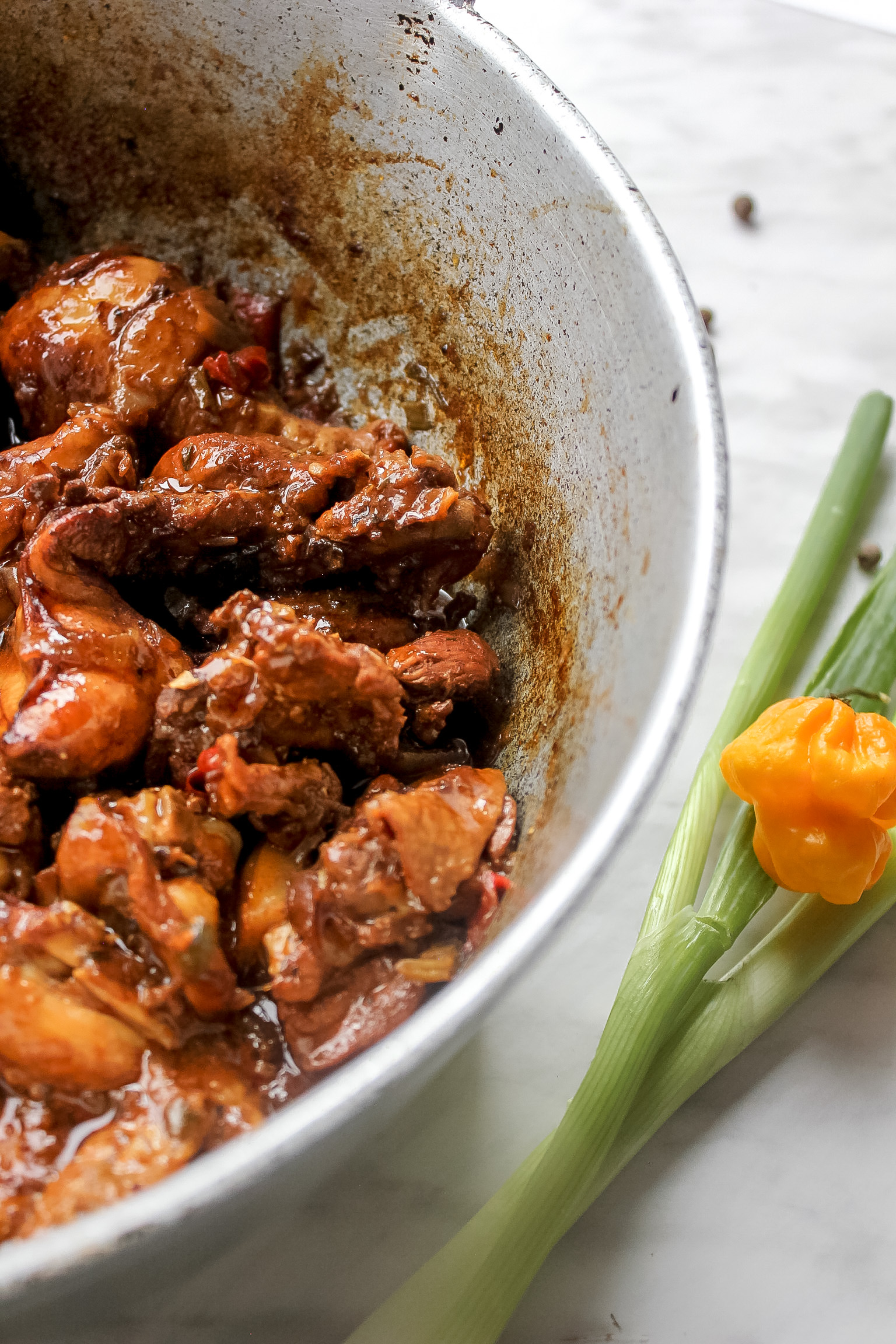 Print Recipe
Jamaican Brown Stew Chicken
This is a classic Jamaican stew made with chicken, aromatic spices, and vegetables which creates a boast worthy taste! It's one you'll want to add in your rotation of meals for sure!
Ingredients
Ingredients (Marinade)
1 Whole Chicken chopped into small pieces
1 Medium Onion chopped
3 Cloves Garlic minced
1 Stalk Scallion
1-2 Sprigs Thyme
2 Bay Leaves
2 tsps Browning
1 Scotch Bonnet Pepper
1 tsp Black Pepper
1 tsp Paprika
½ tsp Pimento Seeds crushed (Allspice)
2 tsp Packed Dark Brown Sugar
Ingredients
3 cups Low Sodium Chicken Stock
½ Medium Red Bell Pepper julienned
½ Medium Green or Yellow Bell Pepper julienned
1 tbsp Ketchup
1 tbsp Soya Sauce (optional)
1/2 tsp Salt or to taste
2 tbsps Cooking Oil
Instructions
1

Prepare the chicken and cut into smaller pieces.

2

In a large mixing bowl or plastic storage bag, combine chicken, onions, scallions, garlic, thyme, bay leaves, browning, brown sugar, all spice (pimento), paprika, salt, black pepper and scotch bonnet. Season the chicken, and allow it to marinate overnight.

3

Over medium high heat, heat oil in a large dutch oven or skillet. Remove the chicken from the marinade (leaving larger pieces like bay leaves, thyme etc. in the mixing bowl), and braise each side until browned - approx. 5-6 minutes. Reserve marinade.

4

Once the chicken pieces are browned on all sides, stir in the stock and reserved marinade. Cover pot and bring all the ingredients to a boil, approx. 8-10 minutes.

5

Remove the lid, reduce the heat to low and allow to simmer. Add in the bell peppers, ketchup and soya sauce (as needed).

6

Cover and cook until the chicken is very tender and the sauce has reduced by half, about 30-35 minutes. Season with salt and pepper to taste if needed.

7

Remove the bay leaves, scotch bonnet pepper, scallion stalks, and thyme sprigs.
Notes
A. If you realize your sauce has not thickened up, combine a mixture of 1tbsp cornstarch, 1tbsp water in a small bowl then add to the pot.