Jamaican Peanut Punch is spiked with Guinness beer and enhanced with rolled oats and warm spices for a rich, sweet, creamy drink. Enjoy this as an adult beverage or make a non-alcoholic version for the whole family to enjoy!
For more delicious Jamaican drink recipes, try my non-alcoholic Jamaican Ginger Beer, this refreshing Jamaican Sorrel Drink Recipe, Jamaican Guinness Punch and this Jamaican Carrot Juice recipe next!
Jamaican Peanut Punch
You are in for a treat if you've never had peanut punch. If you love peanuts then you will be obsessed with this luxuriously thick, smooth peanut punch smoothie. This drink is loaded with tasty ingredients like red skin peanuts, quick oats, sweetened condensed milk, and Guinness stout.
Here's Why You'll Love this Peanut Punch Recipe
Easy to Make – simply gather your ingredients, blend, strain (if desired for a smoother texture), and serve!
Customizable – adjust the ingredients to your personal taste with quick adjustments. It's also easy to make a nonalcoholic version for kids!
Indulgent – with its rich flavour and texture, this spiked peanut beverage is absolutely delicious down to the very last drop. It's not something you'd drink every day but when you do, it's an absolute treat!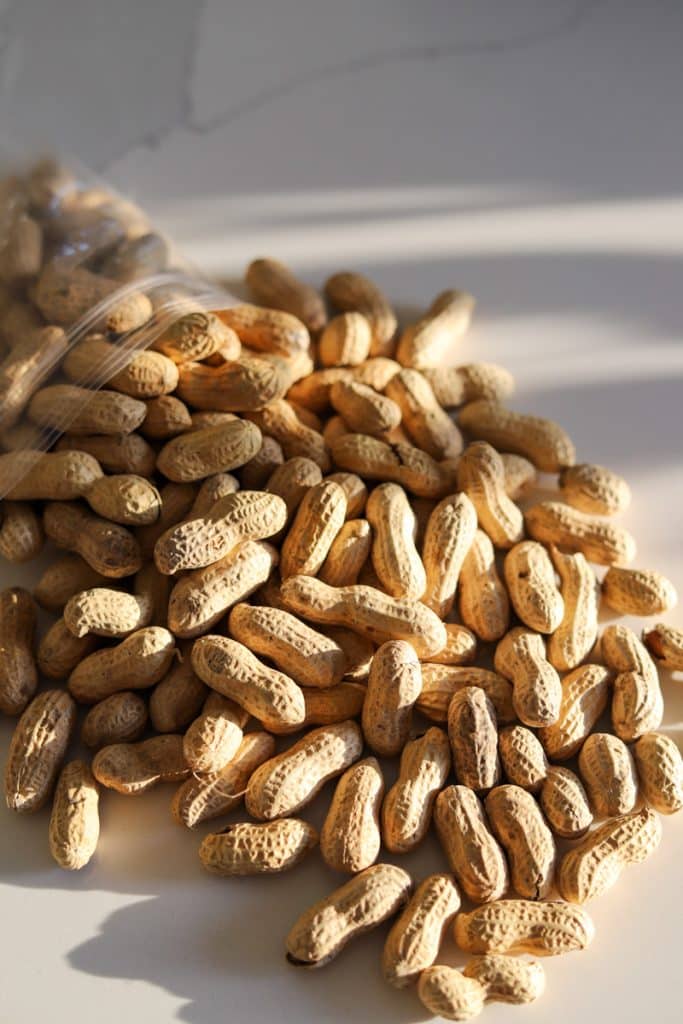 What is Peanut Punch?
Peanut punch is a popular blended Caribbean beverage made with peanuts, milk and sugar. For Jamaicans, it's an adult beverage that's consumed only occasionally. Other Caribbean countries like Trinidad and Guyana have their own peanut punch variations.
Health Benefits of Peanuts
Traditional Jamaican peanut punch has been referred to as a "man's drink" because it is said to be a natural aphrodisiac that gives men more stamina. I can't personally vouch for that but peanuts do have many health benefits. Here are a few:
Peanuts are high in protein and therefore can help you feel full for longer. This prevents overeating which can help with weight loss.
The fiber in peanuts can reduce inflammation in the body, reducing the risk of heart disease and promoting healthy digestion.
This superfood is low carb so it's a great snack for people with diabetes.
They contain arginine, an essential amino acid, that increases endorphin and testosterone levels.
Health Benefits of Oats
Oats are rich in antioxidants, reducing blood pressure and increasing blood flow throughout the body.
Consuming oats can reduce blood sugar levels, helping with weight loss and diabetes management.
They also promote gut health due to the high level of soluble fiber. Oat bran can relieve constipation in older adults.
Oats are packed with vitamins and minerals like B vitamins, iron, and magnesium which can boost immunity.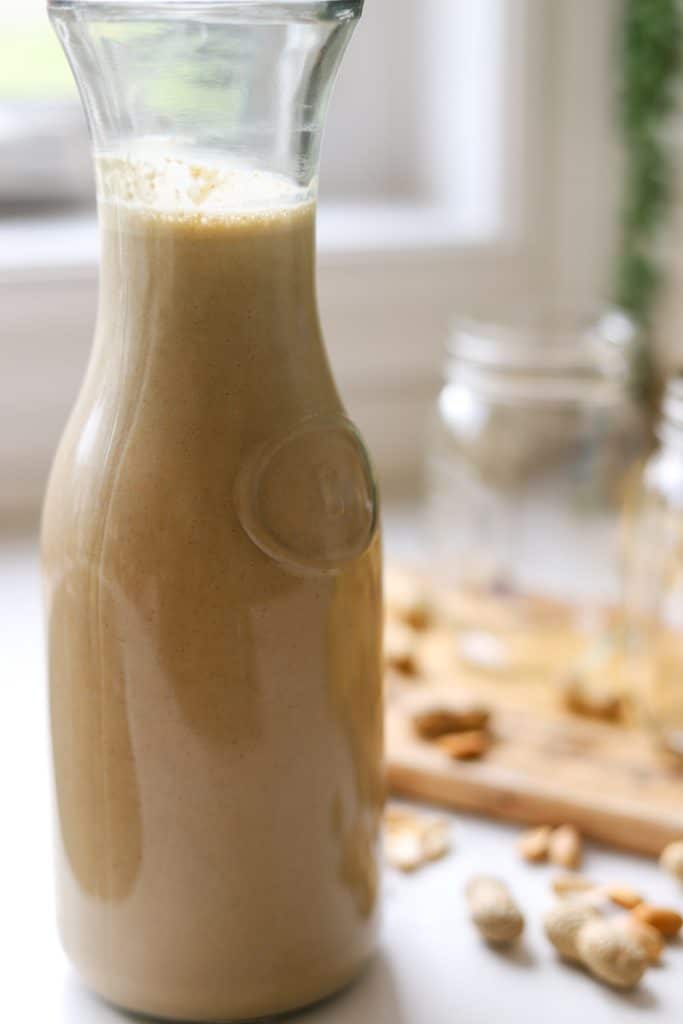 What is Nutrament (Supligen)?
Nutrament and Supligen (Nestle) are liquid meal supplements known to boost energy. You can use either for this peanut punch recipe. They have slightly different tastes but both have a creamy consistency and can be consumed as a snack, small meal or post-workout drink.
How to Make Child-Friendly Peanut Punch
For a virgin peanut punch, simply omit the Guinness and use whole milk instead.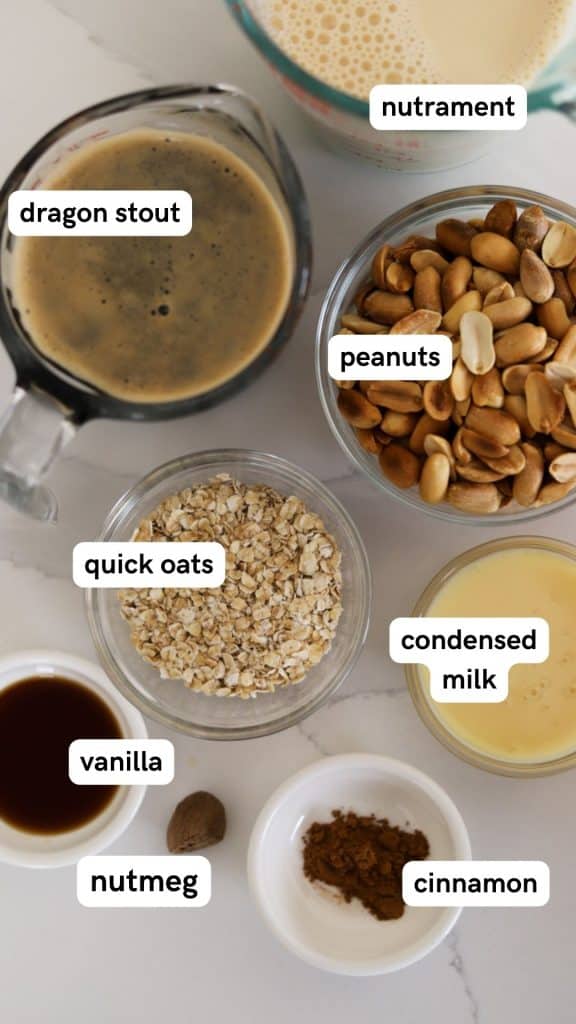 What's Needed to Make This Recipe (Kitchen Tools and Equipment)
High-Speed Blender – use this to blend together all the ingredients.
Cheesecloth or Nut Milk Bag – use this to strain the blended drink so it's smooth with no chunks, if preferred.
Ingredients and Ingredient Notes
Raw Peanuts – I use unsalted redskin but you can use whichever variety of nuts you prefer. If using redskin peanuts, you do not have to remove the skin.
Rolled (Quick) Oats – add this for protein. It also enriches the drink with a thick consistency.
Milk – use Nutrament, Supligen or whole milk.
Sweetened Condensed Milk – this adds a rich, creamy quality and caramelized sweetness to the drink. Use more or less to taste.
Guinness Beer draught or stout – this adds alcoholic content but also contributes to the overall flavour.
Spices – Use pure vanilla extract, ground nutmeg (or freshly grated nutmeg) and ground cinnamon.
How to Make Peanut Punch
Add all the ingredients to a high-speed blender and blend until smooth. Then strain using a cheesecloth or nut milk bag so it's extra smooth, if desired. Chill before serving or pour over ice (if consuming immediately).
Recipe Variations and Substitutions
Peanut Punch with Peanut Butter – peanut butter will work if you don't have raw peanuts at home. If you don't want the drink to be loaded with extra sugar, use organic peanut butter for a similar nutritional value of nuts. This is also the best way to achieve the smoothest texture.
Vegan Peanut Punch – for a healthier version of this nutty drink, use plant-based milk like almond milk, coconut milk, or oat milk instead of whole milk or Nutrament/Supligen. Also, use dairy-free condensed milk.
Alcohol – instead of beer, you can add rum or vodka.
Spices – some peanut punch recipes use cinnamon, ginger, and clove.
Vegetables – it is quite common to add okra and green plantain to peanut punch for added richness and health benefits.
Can I Make this Ahead of Time?
Yes. Peanut punch lasts 3 days in the refrigerator. It will thicken as it cools so add a splash of water or milk to thin it out if necessary.
Storage Instructions
Store leftover peanut punch in the fridge in a pitcher or bottles with tight lids for 2-3 days. Do not add ice to the punch and then refrigerate because it will water down the drink. Shake or stir before consuming.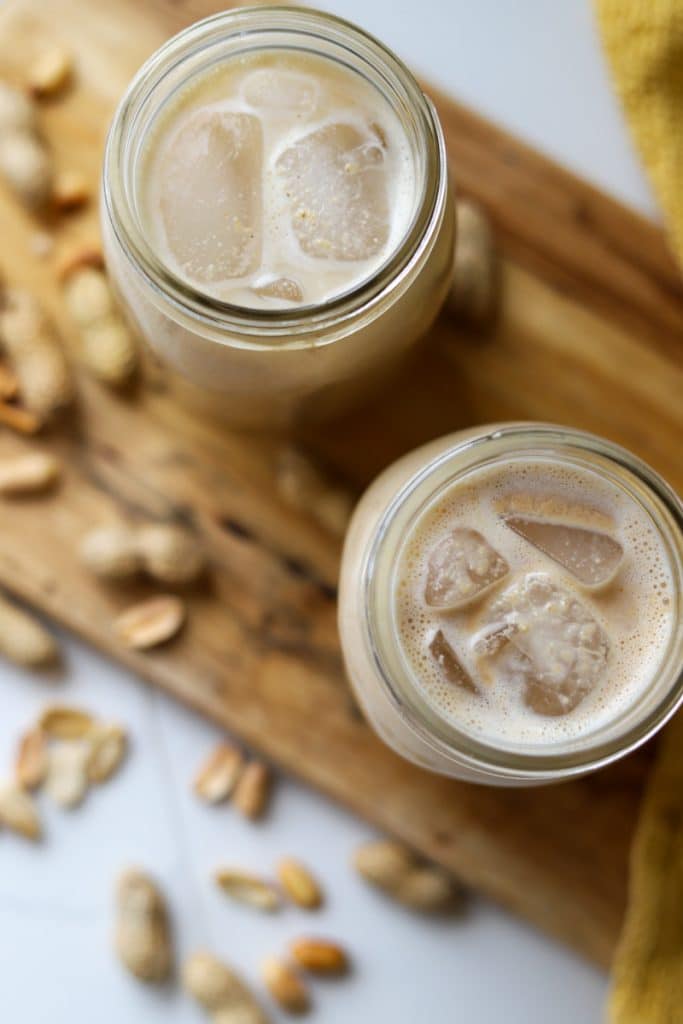 Frequently Asked Questions (FAQs)
Is peanut punch good for you?
Homemade peanut punch is definitely better for you than store bought versions because it doesn't have additives. However, this drink has a higher fat content and a good amount of sugar so it is high in calories.
Can you use peanut butter instead of shelled peanuts?
Absolutely! If you don't have raw peanuts or simply prefer peanut butter, you can use that instead.
Interested in more Jamaican Recipes? Check These Out!
If you try this recipe, we'd greatly appreciate if you leave us a star ★ rating, as well as some feedback in the comment section below if you found this blog post helpful and tasty!
Also, please use the hashtag #theseasonedskillet on social media for a chance to be featured, and don't forget to keep up with TSS on Facebook, Twitter, Instagram, TikTok and Pinterest!
Lastly, sign up to our Friday weekly newsletter for the latest TSS updates, blog posts and recipes straight to your inbox.
Oh, and share, share, share with your family and friends!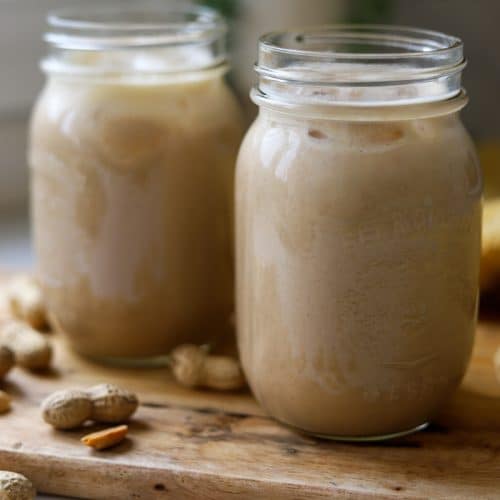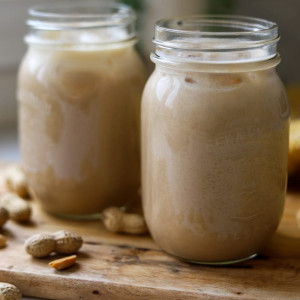 Peanut Punch
Jamaican Peanut Punch is spiked with Guinness beer and enhanced with rolled oats and warm spices for a rich, sweet, creamy drink. Enjoy this as an adult beverage or make a non-alcoholic version for the whole family to enjoy!
Equipment
Blender

Cheesecloth

or mesh sieve
Ingredients
1

cup

Raw Peanuts

unsalted, redskin

1/2

cup

Rolled (Quick) Oats

2

cups

Nutrament

supligen or whole milk

1/4

cup

Sweetened Condensed Milk

more or less to taste

1/2

cup

Guinness Beer

draught or stout

1

tbsp

Pure Vanilla Extract

1/4

tsp

Ground Nutmeg

or freshly grated

1/2

tsp

Ground Cinnamon
Instructions
Add all the ingredients to a high-speed blender and blend until smooth. Strain using a cheesecloth or nut milk bag, then chill before serving or serve over ice (if consuming immediately).
Nutrition
Calories:
689
kcal
Carbohydrates:
43
g
Protein:
62
g
Fat:
31
g
Saturated Fat:
7
g
Polyunsaturated Fat:
9
g
Monounsaturated Fat:
12
g
Cholesterol:
156
mg
Sodium:
229
mg
Potassium:
785
mg
Fiber:
6
g
Sugar:
18
g
Vitamin A:
69
IU
Vitamin C:
1
mg
Calcium:
501
mg
Iron:
2
mg
Note, the nutritional information is calculated using a nutrition facts calculator. It is a rough estimate and can vary based on products used.