The Best Jamaican Recipes are bursting with fresh, bold Caribbean flavour. Whether you need a quick and easy meal or want to feed a crowd for a holiday, we've got you covered. This list covers everything from breakfast to dessert.
After you get meal inspiration from this list of the best Jamaican recipes, try these 10 Jamaican Breakfast Recipes next!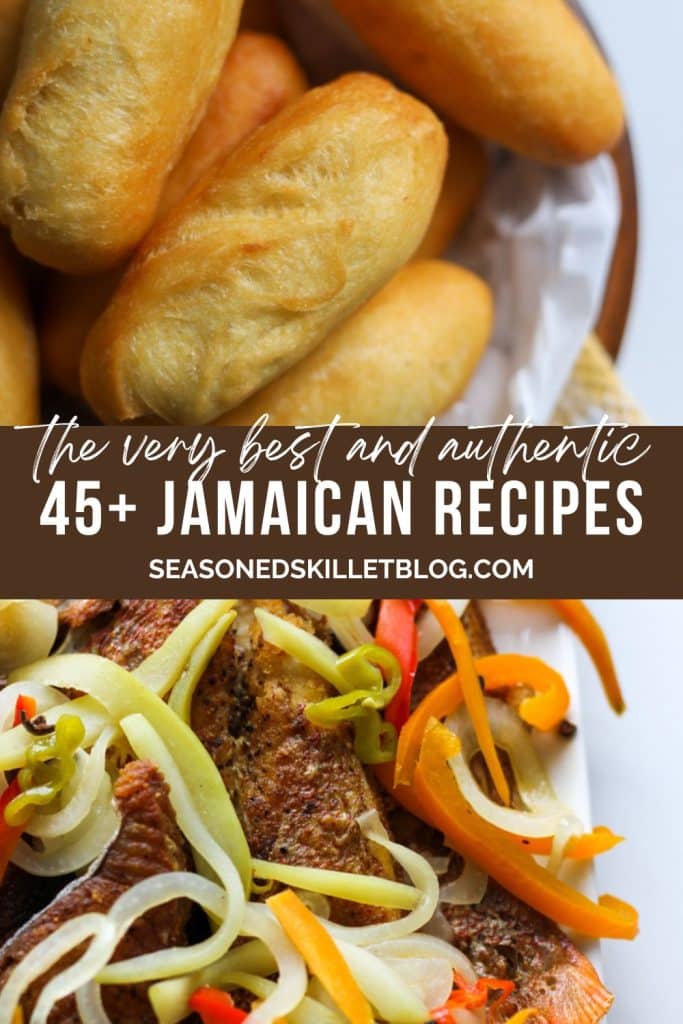 Here's Why These Are the Best Jamaican Recipes
What is a Typical Jamaican Meal?
When it comes to Jamaican dinner ideas, there is a great variety. Common meals include jerk chicken, curry chicken, brown stew chicken, oxtail, jamaican curry goat and escovitch fish.
What is the Most Famous Jamaican Dish?
The most famous Jamaican dish is ackee and saltfish, the country's national dish.
What is the Main Ingredient in a Popular Jamaican Dish?
Given Jamaica's versatile foods, there are some ingredients you will come across in many recipes. Here are some essential ingredients you will need to keep in stock when making the best Jamaican recipes.
Traditional Jamaican Dishes
Go to any Jamaican restaurant and you're bound to see most if not all of these popular Jamaican recipes.
Simple Jamaican Recipes
If you're looking for easy Jamaican recipes that you can make in minutes with minimal ingredients, check these out.
Breakfast
Want to break from the monotony of cereal for breakfast? Try something warm, nutritious, filling and tasty!
Vegetarian Jamaican Recipes
Many of the best Jamaican recipes are meatless because many Jamaicans are vegetarian or vegan. These dishes prove that you don't need meat to have a satisfying and delicious meal.
Seafood
Jamaican is an island so there are many fishing villages and beaches along its coasts. It's easy to see why seafood is such an essential part of the Jamaican diet; it's plentiful!
Jamaican Drink Recipes
This country has the most refreshing and unique beverages. Here are a few.
Soup
Despite the warm island weather, soups are a yearround staple in Jamaican cuisine. Warm, healthy, and so satisfying, here are the best soups.
Chicken
A chicken recipe is perhaps the best way to introduce someone to Jamaican cuisine. These are the most popular Jamaican chicken recipes.
Breads
Many of the best Jamaican recipes are served with bread. These are some of the most popular ones.
Rice and Pasta
Whether you need a side or want to make it a meal, these rice and pasta recipes are absolutely delicious!
Desserts
Jamaican has so many traditional desserts with distinct flavours. Here are some of the best.
DID YOU MAKE ONE OF THE BEST JAMAICAN RECIPES?
Leave a comment below and a star rating above, or tag @theseasoned.skillet on Instagram and use hashtag #theseasonedskillet!
ARE YOU STILL HUNGRY?
Subscribe to my newsletter then follow along on Facebook, Twitter, Instagram, and Pinterest for more great recipes and all the latest updates!