These are the perfect appetizers for any vegetarian, or person needing a little more veggies in their life! May I dare say they are one of the best ways to enjoy cauliflower hands d-o-w-n!
We ALL, could use a little more vegetables in our lives and cauliflower has become one of those vegetables that have slowly made their way up the ranking! From cauliflower rice, to cauliflower mash and now these Buffalo Bites – I'm SOLD! Serve these up with some celery, carrots and the traditional ranch or blue cheese dip, and you'll be in for a great treat!
Notes & Recipe Tips
High Heat – Vegetables should be roasted in the oven in no less than 400°F, for this recipe I recommend a temp of 450°F. Ensure the oven has reached this temp before putting the cauliflower in!
Similar Bite-Sized Pieces – Be sure cut your cauliflower florets into similar sizes – this will ensure they'll cook at the same rate.
Which Sauce to Use – I used the Sweet Baby Ray's Buffalo Sauce, however you can use Frank's Red Hot Buffalo Wing Sauce, but other varieties of hot/buffalo sauce will do just fine!
Serve Immediately – it's best to serve this dish while it hot, and fresh out the oven as the coating may begin to soften the longer it sits out – crispy and fresh is the vibe, not soggy and cold!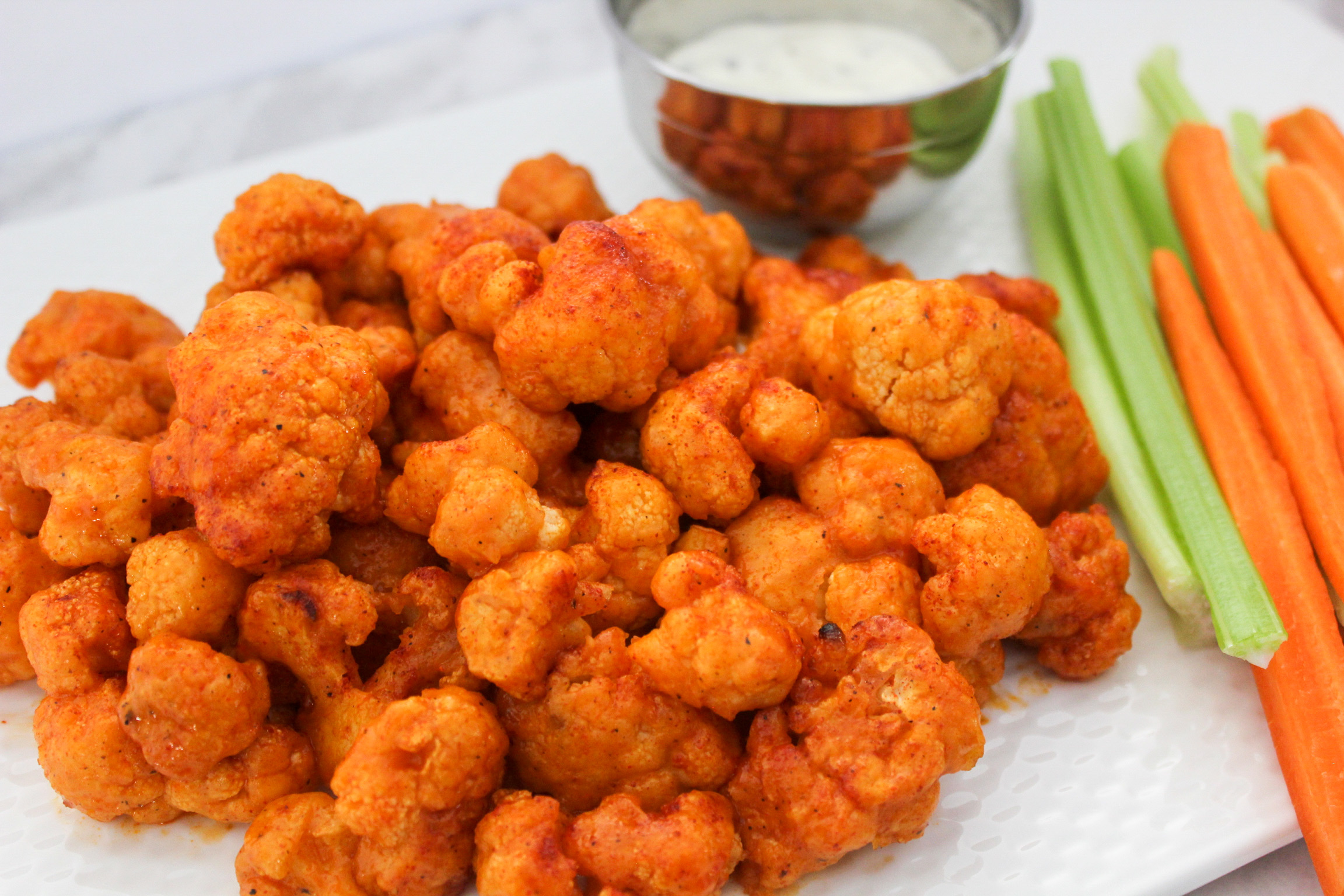 Print Recipe
Cauliflower Buffalo Bites
Ingredients
½ cup Flour
1 tsp Paprika
2 tsp Garlic Powder
½ tsp Black Pepper
½ cup Milk or Water see notes section at bottom of page
1 head Cauliflower
¼ cup Buffalo or Hot Sauce
2 tbsp Honey
1 tbsp Olive Oil
Instructions
1

Preheat oven to 450°F. Line a sheet pan with parchment paper.

2

In a large mixing bowl, whisk together the flour, paprika, garlic powder, black pepper, and milk or water until a thin batter forms (about the consistency of pancake batter - see notes section).

3

Add the cauliflower florets to the batter and toss to coat.

4

Place the cauliflower florets in a single layer on the baking sheet, close but not on top of each other.

5

Bake for 20 minutes, turning halfway through. While the cauliflower is baking, whisk together hot sauce, honey, and olive oil until well combined.

6

Brush hot sauce mixture over each cauliflower, or remove florets and toss in a mixing bowl. Bake for an additional 10 minutes or until just starting to brown.

7

Serve immediately with celery, carrots and ranch or blue cheese dip!
Notes
a. You can use milk alternatives like unsweetened Almond milk as well. // b. You want to aim for batter that is smooth and somewhat runny, similar to pancake batter. If you're finding your batter on the thicker side - add a few tbsp to 1/4 cup of additional milk or water - start 1 tbsp at a time until desired consistency.